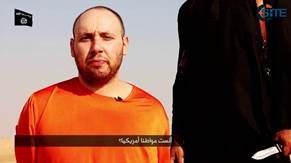 US journalist Steven Sotloff, last seen in the grisly video of the beheading of American photojournalist James Foley two weeks ago, has been purportedly beheaded by the Islamic State militants.
The jihadists have released online a new video in which Soltoff appears to have said he was "paying the price" for the US intervention in Iraq.
The video comes barely two weeks after the militants beheaded Foley and shocked the world by publishing the graphic video online.
Global leaders had called for international action against the Islamic State, a jihadist outfit formerly known as the Islamic State of Iraq and Syria. Last week, Sotloff's mother had made an emotional appeal to the IS group through a video message urging them to spare her son's life.
The nearly three-minute video, titled 'The Second Message to America', was published by the SITE Intelligence Group, which monitors online activities of terrorist outfits, on Tuesday.
It starts with Sotloff identifying himself and then attacking Obama's foreign policy decision. "I am Steven Joel Sotloff. I'm sure you know exactly who I am by now and why I am appearing before you."
"Obama, your foreign policy of intervention in Iraq was supposed to be for the preservation of American lives and interests, so why is it that I am paying the price of your interference with my life. Am I not an American citizen? You've spent billions of U.S. tax payers dollars and we've lost thousands of our troops in our previous fighting against the Islamic State, so where is the people's interest in reigniting this war?" Sotloff says.
Sotloff scathingly criticises Obama for playing politics to 'win an election' by calling back US troops from Iraq and Afghanistan.
"From what little I know about foreign policy, I remember a time you could not win an election without promising to bring our troops back home from Iraq and Afghanistan and to close down Guantanamo. Here you are now, Obama, nearing the end of your term, and having achieving none of the above, and deceivingly marching us the American people in the blazing fire," Sotloff says.
The militant's message to Obama is short and clear – "just as your missiles continue to strike our people, our knife will continue to strike the necks of your people."
It is not clear if the executioner is the same as seen in Foley's beheading video, but he starts off saying, "I am back".
"I'm back, Obama, and I'm back because of your arrogant foreign policy towards the Islamic State, because of your insistence on continuing your bombings and [unclear] on Mosul Dam, despite our serious warnings. You, Obama, have but to gain from your actions but another American citizen. We take this opportunity to warn those governments that enter this evil alliance of America against the Islamic State to back off and leave our people alone."
However, despite the second brutal killing of an American citizen by the Islamic State in as many weeks, US lawmakers are reportedly calling for Obama to expand US' military role in Iraq and Syria, according to National Post. This, however, could cost the life of the British citizen David Cawthorne Haines that IS has threatened to kill.
The US issued a statement condemning the attack. "If the video is genuine we are sickened by this brutal act taking the life of another innocent American citizen," the State Department spokesperson said. "The intelligence community is working as quickly as possible to determine its authenticity".
After Foley's killing at the hands of the IS militants, US had scaled up its role in Iraq and had continued with airstrikes, helping the Iraqi forces and the Kurdish forces to reclaim several territories and towns from the militants.
Sotloff's family is reported to be aware of the video but has not made a public comment yet. Sotloff's mother Shirley had made an emotional appeal to self-proclaimed Caliph of the Islamic State Abu Bakr al-Baghdadi, saying, ""You, the caliph, can grant amnesty. I ask you please to release my child."
Sotloff, 31, used to freelance for TIME magazine as well as the Foreign Policy magazine, and had gone missing in Syria last August.
"Steven was a valued contributor to TIME and other news organizations, and he gave his life so readers would have access to information from some of the most dangerous places in the world. Our thoughts and prayers are with him and his family," TIME editor Nancy Gibbs said in a statement.
British Prime Minister David Cameron has called for an emergency response meeting with his Cabinet early Wednesday to review the latest developments.
If verified, this is a despicable and barbaric murder. My thoughts are with Steven Sotloff's family. Security officials are briefing me now.

— David Cameron (@David_Cameron) September 2, 2014