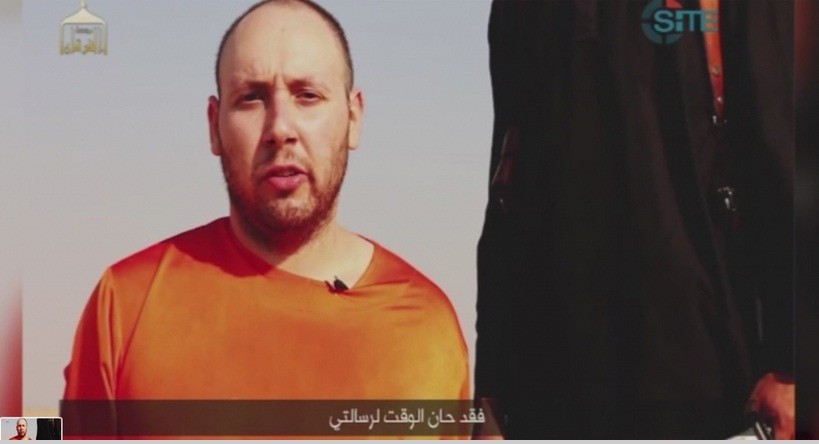 The United States has confirmed that the video showing the beheading of American journalist Steven Sotloff by the Islamic State militant is authentic.
The US intelligence Community said that they have come to the conclusion after having analyzed the video in a comment, which was later repeated by US National Security Council spokesperson Caitlin Hayden:
The US Intelligence Community has analyzed the recently released video showing US citizen Steven Sotloff & reached judgment it is authentic.

— @NSCPress (@NSCPress) September 3, 2014
The 31-year-old journalist had appeared in a video last month, which showed another US journalist James Foley being killed. He was shown at the end of the video with the masked jihadist warning that Sotloff would be the next one to be killed.
Meanwhile, the second video of the gruesome murder has sparked outrage among international community with leaders and public alike condemning the action with the strongest words possible.
The United Kingdom has held a meeting of its emergency Cobra committee after threats to kill a British hostage who was showed at the end of the latest video.
Soon after the United Stated confirmed the video's authenticity, UK's foreign Secretary Philip Hammond also said "Preliminary analysis" had suggested the video was genuine, the BBC reports.
"Our thoughts are with the family and friends of Mr Sotloff. We are doing everything we can to reassure the family of the British hostage who was shown in the video," he added.
Sickening Brutality
Meanwhile, the latest video has triggered a spate of condemnation from world leaders. The UN Secretary General Ban Ki-moon said the act is a despicable crime while the US, which until earlier was still verifying the video said the footage is one of "sickening brutality".
"If the video is genuine, we are sickened by this brutal act, taking the life of another innocent American citizen, Our hearts go out to the Scotloff family," Jen Psaki was quoted as saying earlier by the British news channel.
Ban, who is currently in New Zealand, said: "We are all outraged at reports from Iraq about the brutal killings of civilians by ISIL (IS), including yesterday's reported brutal beheading of another journalist.
"I strongly condemn all such despicable crimes and I refuse to accept that whole communities can be threatened by atrocity crimes because of who they are or what they believe."
British Prime Minister David Cameron described the latest video as an "absolutely disgusting, despicable act".
After Sotloff's video appeared on Tuesday, his family said via a spokesman that the family considered the video to be authentic. "The family knows of this horrific tragedy and is grieving privately. There will be no public comment from the family during this difficult time," said the spokesman, Barak Barfi, in a statement.