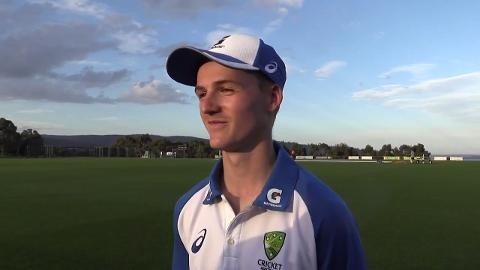 Australian legend Steve Waugh's son Austin will follow in his father's footsteps next month and create history at the ICC Under-19 World Cup in New Zealand.
All-rounder Austin, 17, was today (December 15), named in the Australian 15-man squad for the showpiece event. It will be captained by Jason Sangha, who last month, at 18 years and 71 days, became one of the youngest to hit a first-class century against England since Sachin Tendulkar (17 years, 107 days).
Tendulkar had scored 117 against England in a Test in 1990 at Old Trafford, Manchester.
There are very few father-son duos who have represented their country at ICC World Cups. Steve Waugh took his side to World Cup title in 1999 in England. He was also part of Australia's World Cup winning squad in 1987.
Now, his son has a chance to emulate his illustrious father. Austin is a right-hand batsman and bowls right-arm medium pace, like his dad.
Geoff Marsh and his son Mitchell are the only father-son pair from Australia to have played at senior World Cups. Geoff played in 1987 and 1992 editions while Mitchell was part of the winning squad in 2015. Mitchell had also led Australia to Under-19 World Cup title win in 2010.
"These guys have all had success at underage level in Australia over a number of years, and many of them have already had a taste of international Under-19 cricket," National Talent Manager Greg Chappell was quoted as saying on Cricket Australia's (CA) website on Friday.
"We're fortunate that a lot of these players have already played together coming through the underage pathway, which is a great thing. We believe this squad has a serious chance of contending for the title at the end of the tournament," he added.
Chappell, who coached senior Indian side at 2007 ICC World Cup, said Australia had a "exciting squad" with "some exceptional talent".
"This is a very exciting squad and there is some exceptional talent within this group. We've got a good spread of skills through the squad.
"We're quite strong with our pace bowling, we have good depth with our spin bowling, and a number of our top-order batsmen all offer viable bowling options, which gives us a lot of flexibility when it comes to team selection," the former batsman said.
Australia launch their World Cup campaign against India on January 14. They are in Pool B. Zimbabwe and Papua New Guinea are the other teams in the group. World Cup starts on January 13 and ends on February 3. There are 16 teams in the fray.
Australia Under-19 World Cup squad: Jason Sangha (captain), Will Sutherland (vice-captain), Xavier Bartlett, Max Bryant, Jack Edwards, Zak Evans, Jarrod Freeman, Ryan Hadley, Baxter Holt, Nathan McSweeney, Jonathan Merlo, Lloyd Pope, Jason Ralston, Param Uppal, Austin Waugh.