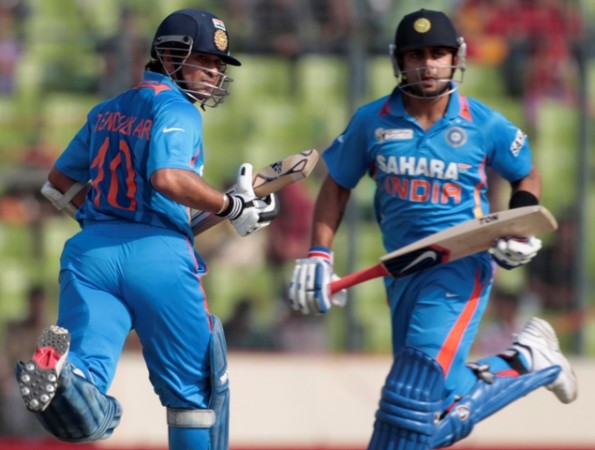 India has produced a number of quality batsmen in the last 20 years, such as Sourav Ganguly and Rahul Dravid, but Sachin Tendulkar has by far been the best. Virat Kohli might not fall in the same bracket as such stalwarts yet, but experts, and former cricketers like Steve Waugh, have already started to draw comparision between the Delhi lad and Tendulkar.
Among the current crop of India batsmen, Waugh sees a bit of Tendulkar when Kohli is at the batting crease.
Waugh is in awe of Kohli, who has been brilliant with the willow in all formats of the game, including T20. Kohli's record in the shortest format is phenomenal, as he has an amazing average of 51.51 with a strike rate of 131.84 in his 39 T20 matches for India.
"The greatest T20 batsman right now is Virat Kohli. He has an average of over 50 and an amazing strike rate. I see a bit of Tendulkar in him everytime he walks in to bat," Indo-Asian News Service quoted Waugh as saying in Sports Today.
Though India might have started the ongoing ICC World T20 poorly, with a loss against New Zealand, the Men in Blue can still win the title. They need to play some superb cricket in the three remaining matches in the group stages, and Waugh believes Kohli will have to perform with the willow to help India win the title.
"If India have to win this World T20, Kohli will have to score a lot of runs," Waugh said.
India's performance against New Zealand was criticised as their famed batting line-up failed to deliver against spinners, but Waugh feels it was a one-off game, and Dhoni's men should move on.
"If you ask Indian players if they mind playing playing on a turning, they would not mind, because they are used to that. I don't think that is an excuse. Maybe they were caught out by the quality of the New Zealand bowling the other night. Maybe they were a little complacent. Having said that, they have not beaten New Zealand in a T20 game," Waugh said.
"Maybe it was one of those days where everything goes awry, nothing goes right. They need to move on and focus on the next game."