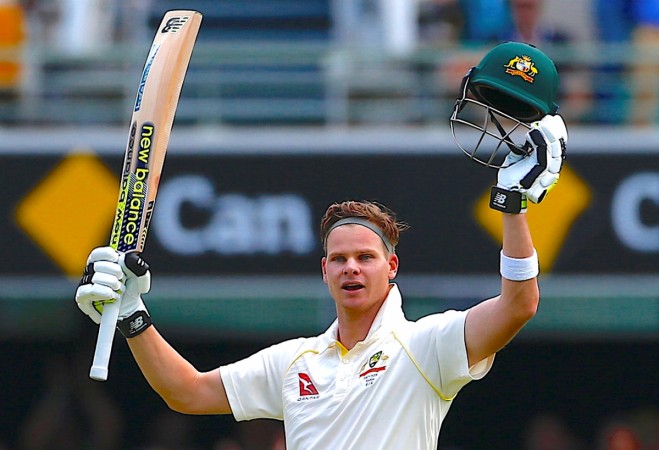 Australian captain Steve Smith has picked his top three Test knocks of his career and one of them is against Virat Kohli-led India.
Smith, who is currently involved in the third Ashes Test against England in Perth, wrote about his best innings on Cricket Australia's (CA) website.
The 28-year-old right-hander, who has so far hit 21 tons from 58 matches, picked three centuries, one each against England, India and South Africa in top-three list.
"Like I did in Brisbane (in the ongoing Ashes series), I managed to start the Border-Gavaskar Trophy series in India this year (February) with a century," Smith, who is number one in ICC Rankings for Test batsmen, wrote.
He added, "Before our team had even set foot in the subcontinent we were written off by everyone, which made my 109 and more importantly our win in Pune that much more satisfying."
Australia started the four-match series against India with a thumping 333-run win in Pune. But they lost the rubber 1-2.
Smith said the Pune wicket was "incredibly challenging" and revealed how he contered the spinners R Ashwin and Ravindra Jadeja.
"The Pune wicket was incredibly challenging with the ball spinning sharply from the first session, so by the time our second innings started it was turning big. I haven't scored too many second-innings hundreds and although I had a few lives along the way, I was proud of the way I stuck to my plans and was able to think on my feet.
"A good example of that was when I started sweeping India's off-spinner Ravi Ashwin. In the lead up to the match I didn't think about sweeping Ashwin, hadn't practiced it but it just felt right," he explained.
On Jadeja, he wrote, "With left-arm spinner Ravindra Jadeja continually beating me on the outside edge, I just took my ego out of play and kept playing for that straight one, confident that if it spun it was going to go so far it would beat the edge.
"That was my mantra throughout the whole tour but particularly in this game. It was such an important game, the first match of the series, and while it was great to get the result we fell just short in the series as a whole.
"But that century really set me up for the rest of the series and just showed me and everyone that I could score runs anywhere."
Steve Smith's top three Test knocks
1. 141 not out Vs England, Brisbane, November 2017
2. 109 Vs India, Pune, February 2017
3. 100 Vs South Africa, Centurion, February 2014