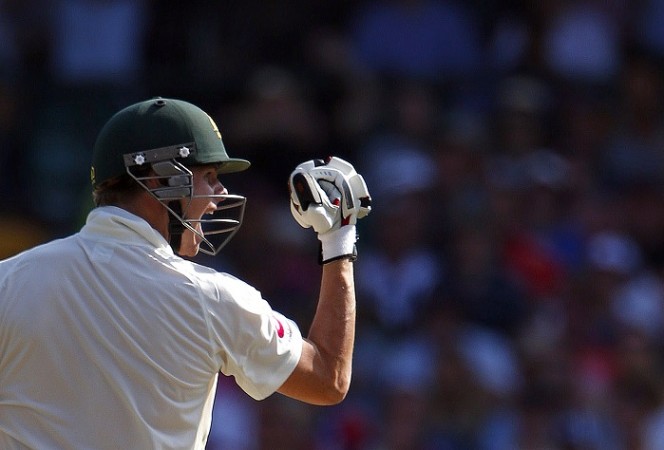 Steve Smith has been in a sublime form since last year and for the time being whatever he touches turns into gold for Australia. He recently replaced ace Sri Lankan batsman Kumar Sangakkara as the number one bastman in the latest ICC Test rankings. However, that does not seem enough to impress former England off-spinner Graeme Swann.
Swann has criticised Smith and opined that he is not a great player and nor his techniques are good. Swann, who retired midway through the Ashes 2013-2014, had picked the wicket of Smith thrice in 22 innings.
When Swann was asked why he does not think of Smith to be a great player, he said, "Yeah, because I didn't think he was a great player. I still don't think he's got a great technique."
Swann said this in an interview to The Guardian. "He must have surprised himself, as well as everyone else, with his output. The trick for him is to try to keep that going. Whether he can, time will tell. I don't think he'll score runs at three if it's swinging," he added.
The former England off-spinner went on to compare Smith to the likes of Adam Gilchrist and Mathew Hayden. He also rubbished rumours that England were going through sleepless nights because they will have to face the world number one Test batsman in the upcoming Ashes series in England.
"Weakness will emerge with Steve Smith. He's not like a Steve Waugh – a nugget with no obvious ways of getting him out. I hope for England's sake that he's a flash in the pan. He doesn't strike fear in you like the Aussies used to, with a Matthew Hayden or an Adam Gilchrist," Swann concluded.
Australia have already reached England for the Ashes series, which is scheduled to start on 8 July. England have meanwhile announced a 14-man squad for a training camp ahead of the Ashes series and ECB would announce the squad for the series once the players return from the training camp in Spain.