The Statue of Unity, a statue of Sardar Vallabhbhai Patel proposed by the Modi government, is set to be the tallest in the world, twice the size of America's Statue of Liberty, and will be completed in four years for just under a whopping ₹ 3,000 crore.
The Gujarat government on Monday issued the project to Larsen and Toubro, which will complete work on the 182-meter tall statue under ₹ 2,979 crore, as per a PTI report.
"This huge construction work will be completed in four years at a cost of ₹ 2,979 crore. The contract has been given to the country's leading construction company Larsen and Toubro," Gujarat Chief Minister Anandiben Patel said on Monday, as reported by Press Trust of India.
"Rs 1,347 crore will be spent on the main statue, Rs 235 crore will be spent on the exhibition hall and convention centre, while Rs 83 crore will be spent on the bridge connecting the memorail to the main land and Rs 657 crore would be spent to maintain the structure until 15 years after it is completed," she said.
The 'Statue of Unity' will be built at Sadhu Island, which lies about 3.5 km south of Sardar Sarovar Dam at Kevadia area in Narmada district in Gujarat. The construction will reportedly begin on October 31 to mark the birth anniversary of Sardar Vallabhbhai Patel.
According to reports, construction company Turner Construction that built the world's tallest skyscraper, Burj Khalifa, in Dubai, will consult on the project.
The statue will be twice as tall as the Statue of Liberty, which stands at 93 meters, and will also be taller than the 153-meters tall statue of Buddha in China, currently considered to be the tallest in the world.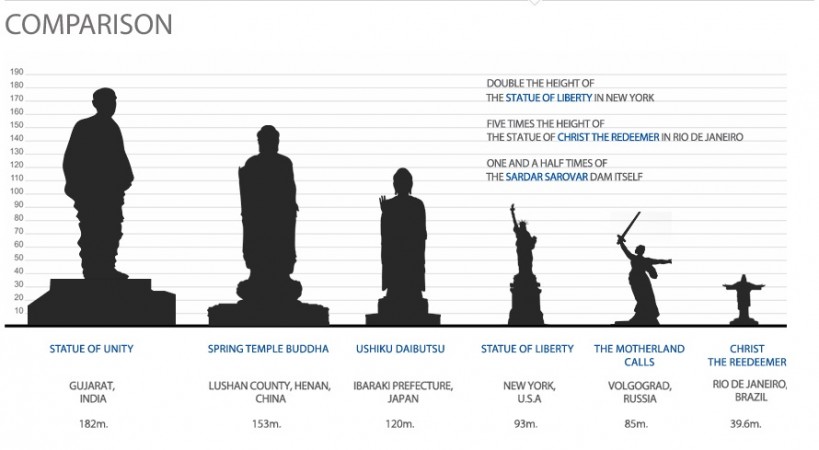 Finance Minister Arun Jaitley had allocated ₹ 200 crore for the Statue of Unity during his budget speech in July, coming under some criticism for allocating more money for a statue than for other causes.
However, it is widely known that Prime Minister Narendra Modi has high regard for Sardar Vallabhbhai Patel, who was India's first home minister. The PM had launched the project last year when he was still the chief minister of Gujarat.
The vision statement on the website for Statue of Unity reads as - 'Like many nations of the world, the time has come for Gujarat to pay a befitting tribute to the great men of its soil and immortalize their history. That's the vision behind building the largest statue of the world to commemorate Sardar Vallabhbhai Patel. It is only in a structure of such enormity that we will be able get close to commemorating the Unity he achieved by winning over a disintegrated and scattered group of 565 princely states.'