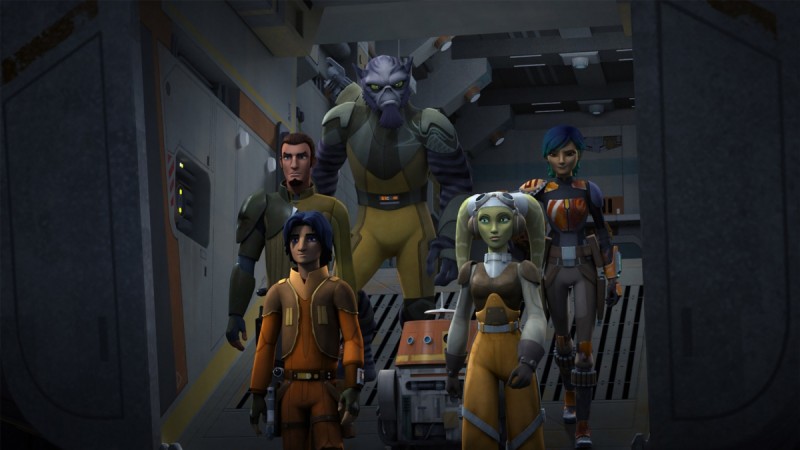 Star Wars Rebels season 3 episode 9 was aired on November 26 and here Lucasfilm and Disney XD just dropped a new preview clip for the next episode.
As it was shown on the previous episodes, the Ghost crew is now led by powerful Ezra, while they have established a secret base on Atollion. Meanwhile, the imperial efforts to eliminate the rebellion are now being led by Grand Admiral Thrawn. Ezra and Sabine take on new roles and challenges as the rebels prepare for their biggest mission yet – a direct assault on the Empire.
The new episode An Inside Man follows Ezra and Kanan where they are seen seeking information on a new imperial weapon. The weapon helps to infiltrate the Imperial factory on Lothal where they must trust an unlikely ally to escape a lockdown of the building.
Star Wars Rebels is created by Dave Filoni, Simon Kinberg, and Carrie Beck. The Lucasfilm Animation production is executive produced by Filoni and Kinberg, and co-executive produced by Henry Gilroy.
The voice cast for Rebels season 3 features Taylor Gray as Ezra, Freddie Prinze Jr. as Kanan, Vanessa Marshall as Hera, Steve Blum as Zeb, Tiya Sircar as Sabine, Dee Bradley Baker as Captain Rex, Captain Gregor and Commander Wolffe, Sam Witwer as Darth Maul and David Oyelowo as Agent Kallus. Tom Baker as the intriguing Force-wise Bendu and Lars Mikkelsen as Grand Admiral Thrawn are newly introduced in this season.
Star Wars Rebels airs on Disney XD at 8:30 p.m. ET/PT on every Saturday.
Check out the promo below.