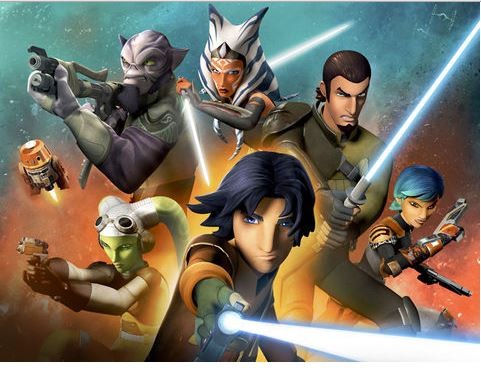 "Star Wars Rebels" season 2 is all set to return to TV. And it looks like it will be sooner than expected. Disney XD has announced that the new season will debut its first episode at 9pm on 20 June.
"Star Wars Rebels" season 2 will begin with a one-hour episode, "The Siege of Lothal," which was screened on the third day of the Star Wars Celebration last month.
The two-part episode begins with the crew of the Ghost joining forces with rebel pilots in A-wings to steal cargo from Imperial ships in space. After an intense space battle, the rebels are successful and escape the Imperial targets with the cargo in tow.
Now, the latest trailer of "Star Wars Rebels" Season 2 has been released and it focuses majorly on Ahsoka Tano. According to a new report, there will be plenty of drama for Ahsoka after Anakin Skywalker's former Padawan joined the Rebels crew in the season 1 finale.
This video also takes you back to Ahsoka's history in "The Clone Wars", revealing her growth till now and the challenges that she may face in season 2.
According to executive producer Dave Filoni Ahsoka in Clone Wars was more like Ezra. And in season 2, she is trying to find out what Ezra and Kanan are up to.
"She's also trying to figure out what the Dark Side of the Force is up to... because there's a nagging feeling in the back of her mind that has some connection to her," he said.
And while being true to some fan's predictions, Filoni also cleared on who would win in the fight between Ahsoka and Anakin.
"Absolutely he could (defeat her)," Filoni confirmed, "Because he taught her."
Defeating Ahsoka and wanting to destroy her will be on Anakin's to-do-list, hinted Filoni.
"She is a living memory of everything he once was — and everything he once had," he said.
Meanwhile, the newly-released synopsis by Disney XD for "The Siege of Lothal" reads: "After an absence while fighting with the rebel fleet. The Rebel crew returns to Lothal to save a defecting Imperial officer, only to be confronted by Darth Vader."
The "Star Wars Rebels" Season 2 will premiere at 9pm on 20 June on Disney XD.