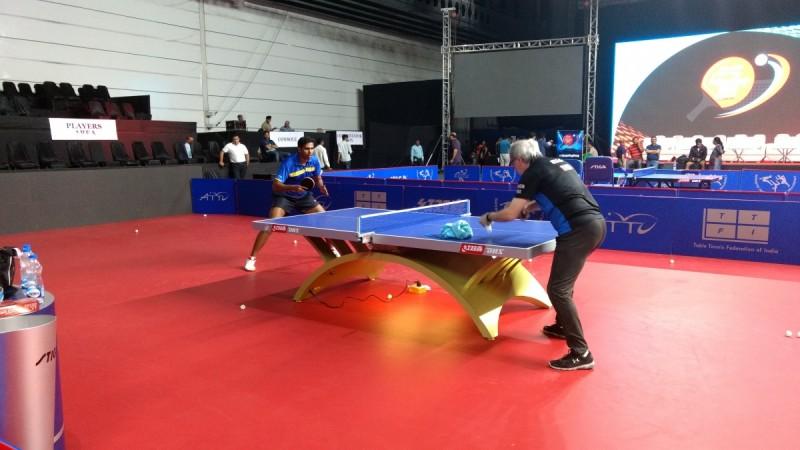 Ahmedabad, September 14: World Cup berths are at stake when continent's top players battle it out at the 30th Table Tennis Asian Cup here from Friday (September 15).
The Arena by TransStadia was buzzing with activity as Indian and foreign paddlers trained hard today (September 14).
Once again, local hopes rest on the shoulders of veteran Achanta Sharath Kamal. The world number 47 is confident of securing a spot at World Cup in Belgium next month.
"Even if I finish second in my group (C), I am sure of making the semi-final cut," said Sharath, who is seeded ninth here.
35-year-old Sharath was drawn in Group C with number two seed from Japan, Jun Mizutani (world number eight), South Korean Lee Sangsu (world number 14) and Lin Gaoyun (world number 29). Fan Zhendong of China is the top seed.
Also read: Sharath eyes 2020 Olympics
"The draw is alright. It could have been better. All are tough players. The first game is most important. I am playing my best table tennis right now," Sharath, who recently became a father of a baby boy, said.
The Commonwealth Games gold medalist is eager to put up a good show in front of the home fans.
"I am looking forward to home crowd support. Playing in India has always been nice. I have always performed well at home. I hope this time also I do well," he said.
32 players, from 11 countries are participating in the biggest table tennis event in Gujarat. A total of $50,000 is on offer in prize money.
Another Indian in men's draw is Harmeet Desai. He was given a spot through regional quota. Manika Batra, in women's section, too earned an entry the same way. Both Harmeet and Manika are drawn in Group D.
The top-three finishers here will earn an automatic berth in the World Cup, but more places will be on offer depending on where the players finish in their ranking when the final list is prepared.
Harmeet has Thailand's Padasak Tanviryavechakul, Iran's Nima Alamian and Abdulaziz Al-Abbad from Saudi Arabia for company.
But whoever qualifies from the Group D will run into the third finishing player from A and C in a single play-off match that will determine the last two spots of quarter-finalists. They will join two quarter-finalists from A and C in the main draw.

Number 13 seed Manika has her task cut out. Thailand's Suthasini, Qatari Aia Mohamed and Neda Shahsavari of Iran, all follow her behind in seeding in the group. This gives some hope for the former national champion, who is ranked 104 in the world.
Manika did really well to win the national ranking title just the previous week at Dharwad and has really shaped up well for the event here.
But nobody has done as well as Liu Shiwen, a four-time winner of Asian Cup. In addition, the Chinese top seed has won the Women's World Cup as many times and that makes her the favourite the win.
Here Liu has a great opportunity to surpass the record of Zhang Yining, qualify directly for the World Cup to be staged in Toronto later this year. The other contenders would only be fighting out for the remaining two other places for the direct qualification.
Playing method
Twelve top players from Asia will be drawn into three groups (Group A, B and C) of 4 players each. The four players from each region will form a group (Group D) to compete in a "Continental Cup".
First Stage: All four groups will play in a round-robin system. Winners and runners-up of Groups A, B and C will go directly to the Second Stage.
3rd position players of Group A, B and C will join the winner of Group D to play a single play-off match to determine the last two positions of Second Stage.
Second Stage: Single knock-out to determine the top 8 positions.
Groups
Men
Group A: Fan Zhendong (China), Koki Niwa (Japan), Chen Chien-An (Chinese Taipei), Ho Kwan Kit (Hong Kong).
Group B: Wong Chun Ting (Hong Kong), Chuang Chih-Yuan (Chinese Taipei), Jeong Sanguen (South Korea), Noshad Alamiyan (Iran).
Group C: Jun Mizutani (Japan), Lee Sangsu (Korea), Lin Gaoyuan (China), Achanta Sharath Kamal (India).
Group D: Harmeet Desai (India), Padasak Tanviriyavechakul (Thailand), Nima Alamian (Iran), Abdulaziz Al-Abbad (Saudi Arabia).
Women
Group A: Zhu Yuling (China), Miu Hirano (Japan), Doo Hoi Kem (Hong Kong), Yu Mengyu (Singapore).
Group B: Liu Shiwen (China), Cheng I-Ching (Chinese Taipei), Yang Haeun (Korea), Lee Ho Ching (Hong Kong).
Group C: Kasumi Ishikawa (Japan), Feng Tianwei (Singapore), Suh Hyowon (Korea), Chen Szu-Yu (Chinese Taipei).
Group D: Suthasini Sawettabut (Thailand), Manika Batra (India), Aia Mohamed (Qatar), Neda Shahsavari (Iran).
Matches start at 10 AM IST on Friday (September 15). You can watch them Live on DD Sports.
India's schedule on Friday
10.30 AM - Manika Vs Mohamed Aia (Qatar)
11.30 AM - Sharath Vs Lee Sangsu (South Korea); Harmeet Vs Abdulaziz Al-Abbad (Saudi Arabia)
3.30 PM - Manika Vs Shahsavari Neda (Iran)
4.30 PM - Sharath Vs Lin Gaoyuan (China); Harmeet Vs Alamian Nima (Iran)
6.30 PM - Manika Vs Suthasini Sawettabut (Thailand)
7.30 PM - Sharath Vs Jun Mizutani (Japan); Harmeet Vs Padasak Tanviriyavechakul (Thailand)