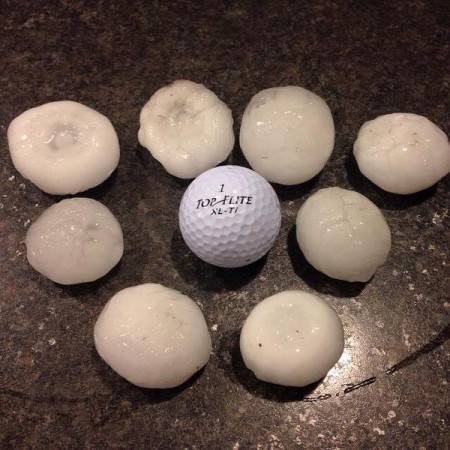 Some areas in St Louis witnessed heavy hailstorm and rainfall on Tuesday morning, 7 April. Golf-ball-sized hail was seen covering the ground in these regions, while flood affected the traffic.
KMBC had reported about a warning of a severe thunderstorm that was to hit Saline County, Missouri, at 11.30 pm. But latest reports suggest that the storm entered the region at 8 am and moved over downtown St Louis around 10.30 am. The streets in the region were flooded due to the continued storm and rainfall and vehicles were stuck in high water, reports KMOV.
Some regions have been reported to have received an average of 1.3 inches of rain. One town in Missouri recorded more than two inches of rain within half-an-hour. The atrocious weather caused several crashes, but no injuries were immediately reported, according to the Daily Mail.
The National Weather Service claims that the flooded situation in St Louis arose as the drainage systems were unable to handle the sheer volume of water and ice during the downpour. Hailstones, the size of golf balls, were reported from several cities including Columbia, Warrenton and Williamsburg, according to the Weather Channel.
Some people took to their Twitter handles to share photos and other updates about the damage caused by the hailstorm, thunder, lightning and rainfall in St Louis on Tuesday morning. We bring to you some unique Twitter posts.
Severe #hail in Missouri RT@jjabraham Viewer pic of golf ball-size hail this morning in #MidMO, near Columbia. #MOwx pic.twitter.com/tZMPXVseHm

— The Weather Channel (@weatherchannel) April 7, 2015
@foreverchasin Large #Hail Pleasanton KS pic.twitter.com/qnzrSWI8nR — Northeast Weather (@SpringWeatherWx) April 8, 2015
Oh #Hail no says Bailey! @CambiBrown @CameraGuyDave1 @kris10marshall @GoodDayCourtney @AlexisDelChiaro #BeachDog pic.twitter.com/1tCTdi8aSf

— Terry Hagz (@TvCamHagz) April 8, 2015
#hail in oakdale,ca wow! @TWCfans #weather pic.twitter.com/44VoMwTINk — Bree Smith (@BreeSmithWx) April 7, 2015
STORM REPORT: Penny size hail from storm earlier in Trimont, Minnesota. Photo courtesy of Tiffany Farley. #Hail #MNwx pic.twitter.com/6t0nmhvtGu

— Mark Tarello (@mark_tarello) April 7, 2015
From snow to hail to lightning-- and the fire it caused! A look at your storm photos, tonight at 10 #LiveOnFox26 pic.twitter.com/fKNRtwWk1p — Liz Gonzalez (@lizziegonzalez) April 8, 2015
Theresa Forsberg of #Lodi shows us the hail she saw today. Fortunately no major damage to her house or car. #kcrawx pic.twitter.com/3gYY6qtiTP

— Kathy Park (@KCRAKathy) April 8, 2015
Several People Snap Photos of Hail Storm in Lodi http://t.co/C7snIpDR4d — FOX40 News (@FOX40) April 8, 2015
#floods #ukfloods - Lightning storms, deluge of hail and flash floods swamp central US as thunders... http://t.co/HBSuqNJiTp - #flooding

— UK Flood Tweets (@ukfloodtweets) April 8, 2015