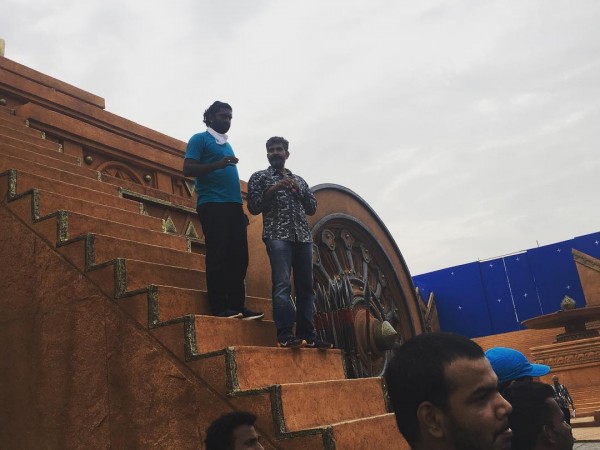 Director SS Rajamouli says that he is happy that 'Katappa ne Baahubali ko kyun maara?' (Why did Katappa kill Baahubali?) emerged as a million dollar question was successful in breaking the barrier of regions and languages.
Ever since the release of "Baahubali: The Beginning," the question "Why Katappa killed Baahubali?" has been doing the rounds on social media. The cast and crew of the film faced this question hundreds of times in interviews for various TV channels, newspapers, magazine and websites. It has become something of a pop culture quiz.
SS Rajamouli says his team encounters this question every day, but it never tires them, as it indicates the anticipation of the sequel of "Baahubali". "We love it when anyone asks this question. I can't count the number of times we get asked this. It is exciting not just for me but for the entire team. We feel elated that we could break the barrier of region and language," the director told PTI.
On Monday, the "Baahubali" team started working on the final schedule of its sequel, which will be continued over the next 10 weeks. The makers have planned to film the climax portion of the film at special sets erected at the Ramoji Film City in Hyderabad. An epic war sequence will be shot in this schedule, which will go on till August.
"After months of pre-planning and rehearsing, the team has started filming the climax portion. An epic war sequence will be shot in this final schedule and the shoot will go on till August. Prabhas [actor] has been training rigorously over the last couple of months for this portion," IANS quoted a source from the film unit as saying.
Technicians from Hollywood have been roped in for the shooting of the climax of "Baahubali 2." "Lee Whittaker, known for his action direction in films such as 'Lingaa' and 'Baahubali', is also the action director of 'Baahubali 2', along with Brad Allan and his team, known for their work on Kingsman series," the source added.