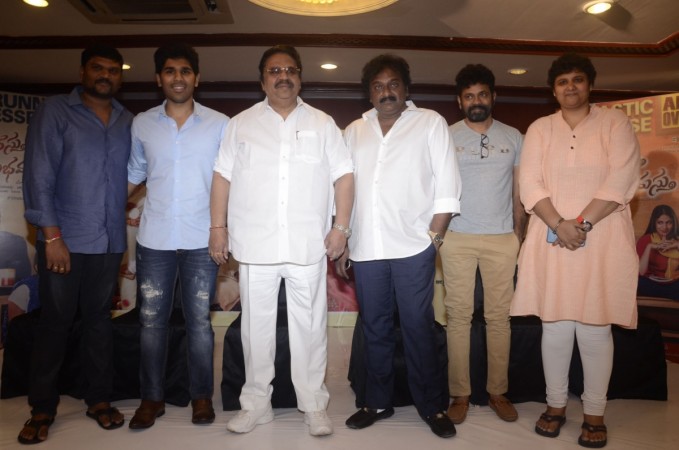 Veteran directors Dasari Narayana Rao, VV Vinayak, Sukumar and Nandini Reddy have lauded Allu Sirish's performance and Parasuram's direction in "Srirastu Subhamastu," which was released in theatres on Aug. 5.
"Srirastu Subhamastu" has been made with a small budget and the movie recovered 40 percent of its production cost from the sale of its satellite rights. The movie, which was distributed by its producer Allu Aravind, opened to fantastic response and recovered the remaining amount from its theatrical run in the first week. The makers of the movie are thrilled over its success.
The producer of "Srirastu Subhamastu" held a success meet in Hyderabad over the weekend. Dasari Narayana Rao, VV Vinayak, Sukumar and Nandini Reddy and few other star directors attended the event as guests. Addressing the function, they praised the film unit for their wonderful work in the film.
"Sirish has done wonderful job in the film. I liked Parasuram's taking. He is indeed one of the best directors in the current generation. In fact, I introduced Sirish, Bunny (Allu Arjun) and Mahesh Babu as child artists to film industry. Srirastu Subhamastu has really come out well. Growth in collections every day is proof of stamina in film's content. It is good thing for industry that small time films like Kshanam, Pelli Choopulu and Srirastu Subhamastu performing well at box office," Dasari Narayana Rao said.
"In fact, I am brand ambassador for small films like these. Thankfully, Sirish didn't pick a heroism based subject. He chose what kind of a subject he suits best for. Geetha Arts production had been started in my hands (First 2 films under the production- Banthrotu Bharya and Devude Digivaste were directed by Dasari). I am happy to see Sirish making his mark in the industry," the veteran director added.
"Heroes of Sirish's generation is curious for mass films and punch dialogues. But, Sirish is not like that. Only thing he concerns about is his character and story. I am happy that Sirish is doing lover boy kind of roles, family drama films and films with soft content. With this encouragement from him, filmmakers will dare to prepare such subjects," VV Vinayak said.
"I need to compliment Sirish on one thing. He dominated Bunny in his third film. His voice and comedy timing are far better than Bunny. I've conveyed the same to Bunny also. As far as I know, Parasuram is the best writer in industry after Trivikram," Sukumar said.
"I know how hard work both Bunny and Sirish put in for their films. When we usually meet, only thing we discuss about is cinema. Srirastu Subhamastu has become a big hit because of Sirish's hard work," Nandini Reddy said.
Speaking on the occasion, Allu Sirish credited the success to the director and thanked him for giving him a break. "I'm more happy for several star directors complimenting our film, rather than what the film is collecting at box office. Only thing I believe is directors can only provide hits to any actors. All the success credit should be given to my director. I thank Parasuram for that. Dasari gaaru speaking about our film is biggest achievement for us," the young actor said.
Parasuram thanked all the guests for their compliments and encouragement. "I thank everyone for coming here and blessing our cinema. I'm truly blessed to have such sweet and encouraging words from Dasari gaaru. I'm overwhelmed with all your compliments," the director said while addressing the event.