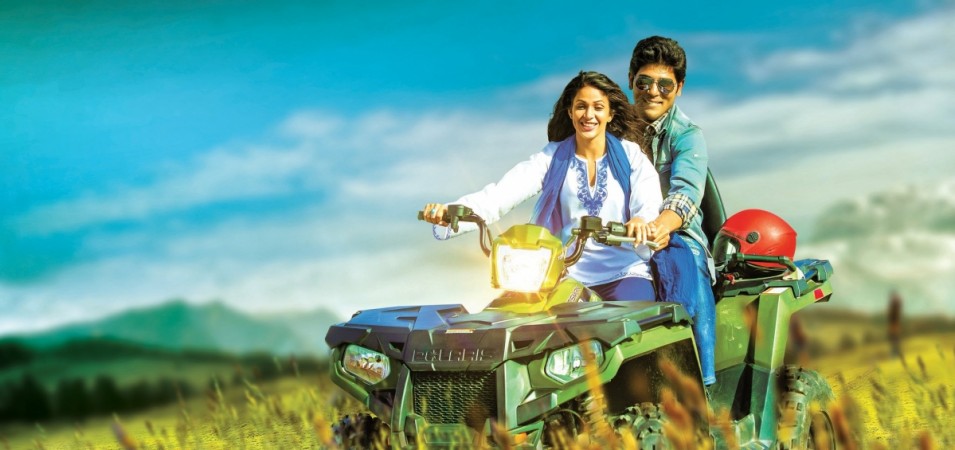 Director Parasuram's Telugu movie, "Srirastu Subhamastu," featuring Allu Sirish and Lavanya Tripathi in the lead roles, has positive reviews from viewers around the world.
Check: Srirastu Subhamastu Stills | Sirish, Lavanya Promote SS | Chiru at SS Event
"Srirastu Subhamastu" is a family drama, which is high on the emotional and entertainment quotient. Parasuram has directed the movie, and also written its story and screenplay. The film has been produced by Allu Aravind under his home banner, Geetha Arts.
The movie has rich production values and music, and its cinematography and costume designs have also impressed the audience.
Viewers say the film has a routine romantic comedy story that has been brought on screens in Tollywood several times in the past. There is nothing new and fresh in terms of story in the first half. However, some sentimental and comedy scenes keep viewers engaged. The second half is better, but it has slow-paced narration. The emotional climax is also good.
Allu Sirish has delivered a decent performance, which is the highlight of "Srirastu Subhamastu." Lavanya Tripathi has done a good job and steals the show with her comic timing. The amazing chemistry between the two is another highlight of the film. Prakash Raj, Rao Ramesh, Tanikella Bharani and Sumalatha have done justice to their roles and their performances are among the assets of the movie.
We bring you some viewers' verdict shared on Twitter. Here is the live update of "Srirastu Subhamastu" movie review by audience:
Jalapathy Gudelli ‏@JalapathyG
#SrirastuSubhamastu: Decent romantic drama with entertaining 2nd half. Sirish – P.Raj/RaoRamesh scenes towards climax are major highlight.
RamCharan Freak ‏@KondalaSatish
#AlluSirish #Lavanyatripati #MusicThaman #SrirasthuSubhamasthu is a Superb Family Emotional Entertainer, Last 40min Of Film Is Great Parasuram Sir Dialogues & AlluSirish Performance Superbb Must Watch Film #SrirastuSubhamastu : A Largely Enjoyable Family Entertainer, Feel Good Film With Gud Emotions
Prasadam Raghu ‏@raghumaatv
#SrirastuSubhamastu complete family Entertainer. well written by Dir Parasuram for Rao Ramesh Prakash Raj Best! @AlluSirish @Itslavanya
Ravee Kiran ‏@ravikirankotha
#SrirastuSubhamastu - Good Cinema. Parasuram has hit the right cord. Congrats to whole team #AlluSirish #lavanya #MusicThaman
Nikhil Kumar ‏@nikvenk
#SrirastuSubhamastu is Very well written story.. There is Fun, Romance and Sentiments @AlluSirish @Itslavanya done superb performances
BlockBusterSRSM ‏@Bunnyfollower
#SrirastuSubhamastu movie ll be a #Bommarillu in @AlluSirish's career..........Nice performance from leading pair. #SrirastuSubhamastu is youthful Family Entertainer........I watched a clean entertainer after a long time........Thanks to dir #Parasuram...
M Adithya Reddy ‏@AdityaS2Cinemas
#SrirastuSubhamastu A decent family entertainer go watch it right away congrats @AlluSirish @Itslavanya @SKNonline
Srinivas #mahesh23 ✊ ‏@SrinivasSSMB
Gud #SrirastuSubhamastu .Entertainment& parusuram dialogues are big positives @Itslavanya No words abt u . LOVED ur performance .sirish ok
Raj C M ‏@RcMullapudi
#SrirastuSubhamastu 2.75/5 nothing new except some dialogues here n there..lack of entertainment big minus
Sujithkumar ‏@sujithkumar16
#SrirastuSubhamastu is a supb entertainer @MusicThaman u have given supb music bgm excellent #hitcinema
SriRastu Subhamastu ‏@SKNonline
A well written FIRST HALF @AlluSirish excelled as actor. he looks brilliant on screen and comedy timing is fantastic. All punches r so good #SrirastuSubhamastu started off wth a positive note @Itslavanya perfect girl friend meter @MusicThaman soothing music #RaoRamesh dialogues 2nd half going in more entertaining mode #SrirastuSubhamastu Emotions + Entertainment right quota #Parasuram is one of the best dir who writes emotional scenes to the core. Few sentiment scenes in #SrirastuSubhamastu r really touching Stunning performance by @AlluSirish #Parasuram script makes #SrirastuSubhamastu a winning film @GeethaArts banner lo malli HITTU
Suresh Kondi ‏@V6_Suresh
Half way through #SrirastuSubhamastu.. Going well..
Karthik Reddy ‏@Karthikreddy224
Watched #SrirastuSubhamastu loved the performance of @AlluSirish @Itslavanya purely connected to the movie.
ֆαrkαr ☯ ‏@SarkarTweetz
Good family entertainer with nice performances from @AlluSirish @Itslavanya & Ravu Ramesh. songs by @MusicThaman r excellent.
SG ‏@shankar2rinku
Nothing new .. Avg first half #SrirastuSubhamastu Subbaraju as ACP subhash #SrirastuSubhamastu Bommarillu climax Routine mv ., If u have ample time not knowing what to do give it a try #SrirastuSubhamastu
Chay ‏@cz516
Routine Shit. #SrirastuSubhamastu Allu Sirish Screen Presence ki hatsoff. Inka evarni chuda budhi avatledhu. #SrirastuSubhamastu
Pooja Mahesh ‏@PoojaDaPrincess
ok movie.. #SrirastuSubhamastu. pre climax sentiment scene good. #SrirastuSubhamastu
Telugu360 ‏@Telugu360
Interval report for @AlluSirish 's #SrirastuSubhamastu : Run of mill story. Just OK so far. @AlluSirish #SrirastuSubhamastu movie: Decent family entertainer with hackneyed story line
MyTollywoodMovies ‏@mytollymovies
Movie starts off on a family conflict point. Middle class father daughter relationship nicely taken Movie progressing with subtle comedy Emotional episodes going on . Routine Movie progressing on slow pace. Nothing special. Emotional interval. But we gc seen this like 1000 times b4. 1st half- not bad but felt like we wtchd it many times b4. Finally funny scenes are funny. Above average comedy track going on. Emotional climax episodes are well written. Film ends on happy note.
didz d CT ‏@charandiddi
Good movie , second half bagundi.... Parasuram #SrirastuSubhamastu
Sandeep Aatreya ‏@SandeepAatreya
#SrirastuSubhamastu starts on bright note. #AlluSirish is very impressive. Does it with ease. Very well-written script. #SrirastuSubhamastu is laugh-riot. #AlluSirish #Lavanya make for good pair. @Itslavanya is easy on eyes & so natural in display of emotions
HARI KIRAN ‏@harikiranroyal
Kummuthunnadu Saami Background Score. Very Good,Refreshing BGM by @MusicThaman #SrirastuSubhamastu
cinemagala ‏@cinemagala
#SrirastuSubhamastu starts on a serious note with Prakash Raj The lead pair @AlluSirish and @Itslavanya make a simple entry. #SrirastuSubhamastu going good with a few comedy scenes. Into interval with a simple twist. Starts good,gets a bit slow pre-interval n ends with a nice setup for the 2nd half Into 10 min second half and getting racy Some hilarious comedy scenes between Ali and subba raju are on now. An emotional climax is now on.