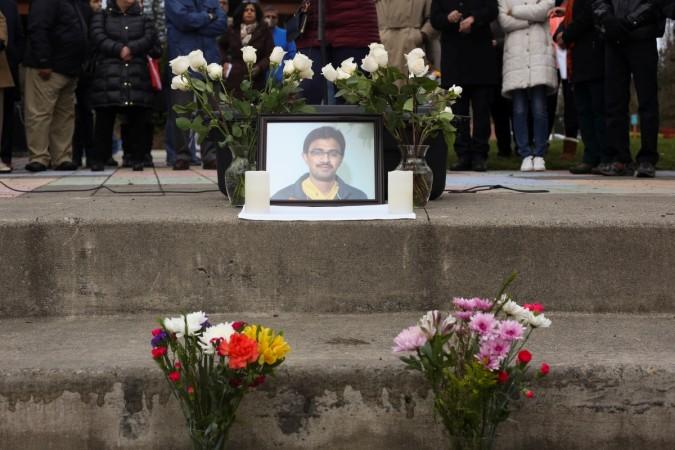 US Navy veteran Adam Purinton, convicted of killing Indian techie Srinivas Kuchibhotla in a racially charged hate crime in an Olathe bar in Kansas City in 2017, has been sentenced to life imprisonment. The sentence was pronounced Friday, May 4.
Kuchibhotla's widow Sunayana Dumala has welcomed the sentence and said that even though this is not going to bring her husband back, it proves that "hate is never acceptable."
"We must understand and love one another. I don't want another Sunayana or a Mindy Corporon to go through what we have in losing our loved ones. Nothing can fill the void left by this murderess act and the emptiness I feel inside since Sriniu's murder," she said in a statement submitted to the court during the Friday proceedings, reported KSHB.
"Srinu never hurt anyone—that is the way life should be lived," she added.
Dumala also thanked the people who have supported her and wished that Purinton has seen Kuchibhotla as a kind-hearted and beautiful man instead of focusing on his skin color.
The Indian techie's widow also spoke about how the world needs peace and love and invited people to share their stories on the Forever Welcome page on Facebook. "There will never be a better time than now to stand up to hate and spread love," she concluded.
The Austins Bar and Grill murder
Kuchibhotla was shot dead at the Austins Bar and Grill February 22, 2018, by Purinton who commented on his immigration status.
A bartender had, at the time, said that Purinton used "racial slurs" before he started shooting. The police then said that Kuchibhotla, 32, was rushed to the hospital but succumbed, while other two injured -- Alok Madasani, 32, and Ian Grillot, 24 – were hospitalized but survived the shooting.
Eyewitnesses also said that Purinton had yelled "get out of my country," before shooting at Kuchibhotla and Madasani. When Grillot stood up for them, Purinton asked: "You're gonna stick up for them, and not me?"
Purinton then fled the scene and drove about 70 miles (110 kilometers) towards Clinton, Missouri. He is said to have stopped by at a local pub, where he told the bartender about the shooting incident in an inebriated state, following which, the staff informed the police.
Purinton's sentence
Purinton is now set to spend his life in jail for killing Kuchibhotla and has also been handed 165 months for the other two attempted murders. The sentences will run consecutively.
Purinton will also not be eligible for parole until after he is 100 years old.