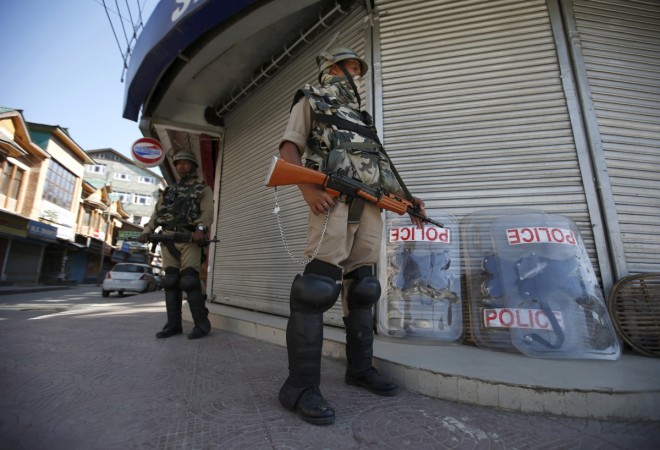 Ahead of the State Legislative Assembly session, which will start on May 25, militants carried out two attacks on the J&K Police in separate incidents in Srinagar on Monday.
Three policemen were killed in the two incidents which took place in the old downtown city and outskirts of Srinagar. This is the first such militant attack in the heart of the summer capital after Mehbooba Mufti took over as the chief minister of the state on April 4.
The first ever meeting of the state legislature after the formation of the PDP-BJP government is scheduled to be held on May 25 in Srinagar.
Meanwhile, a police official was quoted by the Hindustan Times as saying that the militants shot the two police personnel from a close range in Zadibal area of downtown Srinagar city, which connects the city to the popular Hazratbal shrine, Kashmir University and the National Institute of Technology. The two policemen killed in the attack were identified as Assistant Sub Inspector Ghulam Mohammad and Head Constable Nazir Ahmad.
The Indo-Asian News Service quoted a senior police officer as saying that the two policemen were unarmed and were regulating traffic during the rush hour when unidentified gunmen riding a motorcycle fired at them.
In Srinagar, the local police has been assigned the task of assisting traffic police during peak hours.
The two cops, posted at Zadibal Police Station, were immediately rushed to a nearby hospital where they were declared dead.
The city has been put on an alert and the police is on the lookout for the assailants who managed to flee the pot.
Hours after the Zadibal attack, militants shot dead a J&K policeman, Mohammad Sadiq, who was posted as a security guard to a high-ranking government official in Tengpora Bypass locality at the outskirts of Srinagar.
The attackers also seized the service rifle of the policeman before fleeing the spot.
Meanwhile, the Pakistan-based militant group, Hizbul Mujahideen, has claimed the responsibility of the two attacks, News 18 reported.
Omar Abdullah, the former chief minister and president, J&K National Conference, urged the state government to act fast and reassure security to both Srinagar residents and tourists. "The attacks on policemen in Srinagar is a worrying development. Condolences to the families of those who've died," he said in a tweet.