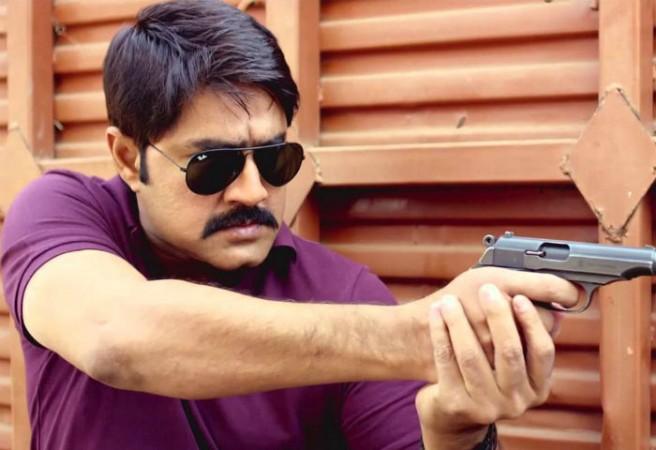 Director Satish Kasetty's Telugu movie "Terror," featuring actor Meka Srikanth and actress Nikita Thukral in the lead roles, has garnered positive reviews from the critics and audience.
"Terror" is an action thriller movie written by Satish Kasetty. The story of the film is about a sincere police officer named CI Viay (Srikanth), who is part of a special counter intelligence team. Vijay comes to know about a major threat that can cause damage in Hyderabad. How he catches the mastermind and stops the impending attack forms the crux of the story.
The critics and audience say Satish Kasetty has chosen a routine story about how a sincere police officer raises his voice against the corrupt politicians, but the way he narrated it is different and interesting. The director has been successful in holding the attention of the film-goers right from the beginning till the end.
They say Srikanth has delivered a sterling performance, which is the main highlight of "Terror." Nikita Thukral does not have much scope for her role and she has done justice to her portion. Kota Srinivasa Rao, Prudhvi, Nasser, Vinay Varma and others have done their jobs very well and their performances are also among the big assets of the movie.
"Terror" has good production values and the background score and picturisation are the big attractions on the technical front, they added. Here is the live update of the "Terror" movie review by critics and audience:
With Terror, Srikanth will definitely have a huge sigh of relief as his performance and the film are pretty decent. This is not a film which has popcorn entertainment and the regular masala which you are used to. All those who have an eye for crime thrillers and serious drama will end up liking this different film big time but the rest should go in well prepared.
Terror will not be an Ab Tak Chappan that will be remembered in the years to come. Probably because the story is not novel and has often been retold in different ways. Instead, Terror will be remembered as a welcome change from the sea of commercial mindless potboilers that's hurled at us every week at the movies. In all, Terror is a good one-time watch for political-crime-thriller genre fans.
It doesn't aim too high in terms of what it tries to achieve, but right from its editing & cinematography to a good ensemble of actors come together so well that it keeps you hooked on to the screen. It might be a low budget film, which is far away from all the larger-than-life commercial films we see every week, but the effect it has as the story unfolds is totally worth it. Go watch it!
Hemanth Kumar CR ‏@crhemanth
Satish Kasetty's new film #Terror starring #Srikanth is pretty well done. No songs and very focused on what it wants to say. Worth a watch
Survi ‏@PavanSurvi
#Terror - Surprisingly Well Made Film.
Mahesh S Koneru ‏@smkoneru
Congratulations @satishkasetty garu.. #Terror is very well made and a major break for Srikanth after many many years
Kurnoolcityupdates ‏@kurnool_city
Police station scene terrorist Ki warning iche scene lo srikanth acting peaks aa emotion n dialogue delivery rough adistunadu #terror Osm first half rachal bgm srikanth Ki oo range lo elivate chesadu music tu probably tis year best movie different #terror
Ramesh ‏@rameshlaus
Best Wishes to @thukralnikita for the release of her Telugu movie #Terror today.. Hearing gr8 reviews already :-)