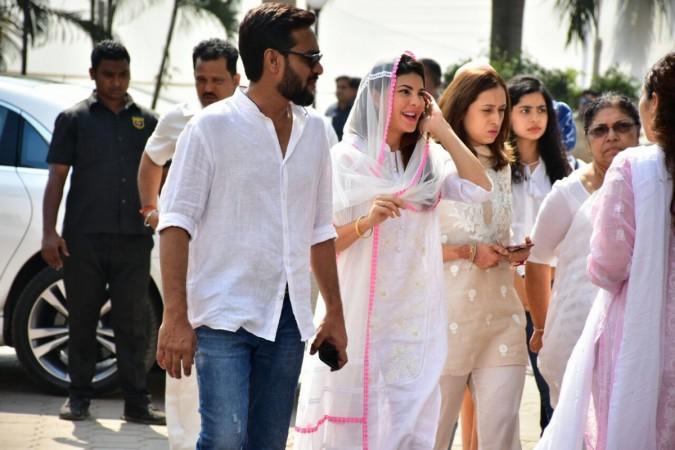 Sridevi's mortal remains were finally brought to Mumbai at around 10.30 pm on Tuesday (February 27) after a three-day-long post-mortem investigation led the Dubai police to close the case of her death and rule accidental drowning as the cause of death. In Pics: Jacqueline Fernandez smiling on her arrival at actress' prayer meet.
Her body has been kept at the Celebration Sports Club in Mumbai for people to pay their last respects to the late legendary actress.
A Twitter user, who is apparently following the live updates of Sridevi's funeral online very closely, was irked by the behavior of Jacqueline Fernandez when she arrived at the venue for the prayer meet.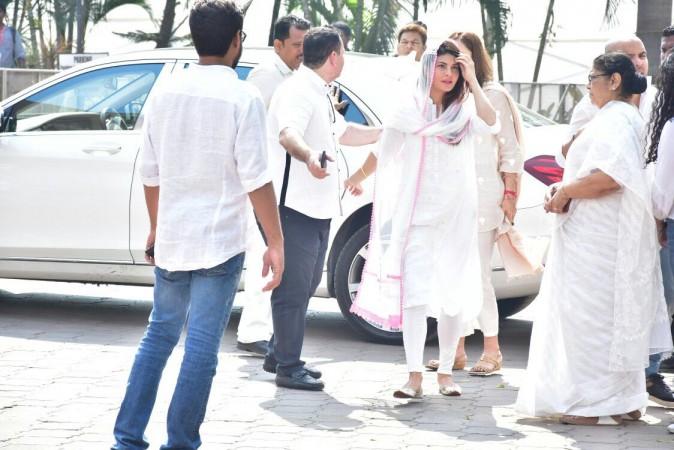 The Race 3 actress was photographed smiling and greeting people after she stepped out of her car upon her arrival at the venue.
Her actions didn't go down well with the Twitter user, who slammed her and accused her of going to Sridevi's last rites for media coverage. He also demanded that she respect the departed, and said that there was nothing to smile at all.
Dear @Asli_Jacqueline
If you don't have respect for departed soul then avoid going for last rites just for the sake of media coverage. There was nothing to smile. #Sridevi was not only a actress but she was an institution of acting. A legend! Respect her.

— Subrat Saurabh (@ChickenBiryanii) February 28, 2018
Another Twitter user echoed his thoughts and replied: "Sahi bole.. Aur aise show off kar rahe hai jaise use ko dhuki hai.. Sar par dupatta rakhna , phir hasna.." [Loose translation: That's right. And she is showing off as if she is really sad. Covering her head, and then smiling.]
Sahi bole.. Aur aise show off kar rahe hai jaise use ko dhuki hai.. Sar par dupatta rakhna , phir hasna..

— Reputation (@NiveditaBanjara) February 28, 2018
Another user said:
However, a source informed that she was just trying to be as normal as possible, and that she could not even think of disrespecting the legendary actress who she admires the most.
The Race 3 actress had earlier paid a musical tribute to Sridevi on her Instagram.
Meanwhile, the who's who of Bollywood have been arriving at the venue since Tuesday night to offer their condolences to the Kapoor family. Celebrities like Shah Rukh Khan, Salman Khan, Akshay Kumar and the entire Bachchan family were spotted arriving at the venue to pay their last respects.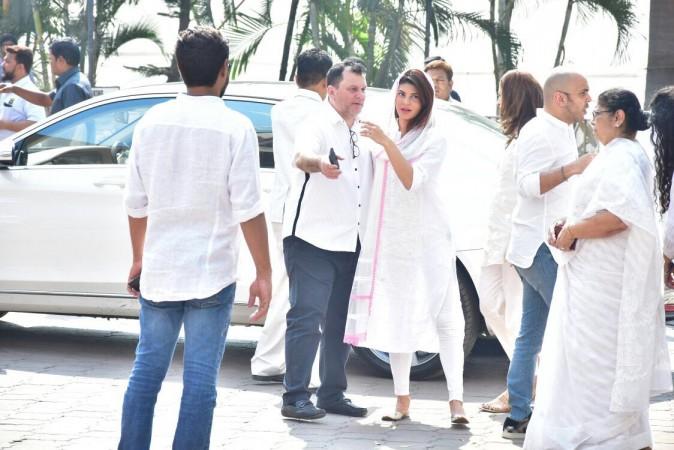 Sridevi's last rites will be performed at Vile Parle Seva Samaj Crematorium after 3:30 pm.