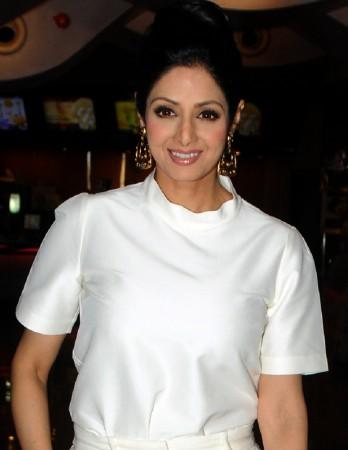 Sridevi's husband Boney Kapoor, daughters Janhvi Kapoor and Khushi Kapoor bid their final adieu to the legendary actress as they immersed her ashes in the Indian Ocean in Rameswaram, Tamil Nadu on March 4.
While she will be remembered for her immense contribution to Indian cinema, recent reports have suggested that KriArj Entertainment has acquired the remake rights to Sridevi's classic 1989 movie ChaalBaaz.
"They (KriArj Entertainment) have already acquired the remake rights to one of Sridevi's most beloved films, ChaalBaaz," a source informed Deccan Chronicle.
Sridevi's popular song Hawa Hawai from Mr India was recently recreated in the Vidya Balan-starrer Tumhari Sulu, which released last November. The song became a hit on YouTube, garnering millions of views.
In Chaalbaaz, Sridevi was seen playing twin sisters named Anju and Manju, who get separated as babies.
Anju grows up to be a shy, reserved and godfearing girl at the house of her evil uncle Tribhuvan (played by Anupam Kher), who had had their parents killed to usurp their property. Manju, on the other hand, grows up in a slum to become a street-smart, happy-go-lucky stage dancer who loves liquor.
The movie also starred Sunny Deol as Suraj, who falls for Manju, and Rajinikanth as Jaggu, who eventually gets married to Anju. The song Na Jaane Kahan Se Aayi Hai from the film is considered one of the top chartbusters of Sridevi.
"KriArj has not only acquired the rights to the movie, but also for the hit song," the source added.
Earlier, the song was recreated in John Abraham, Prachi Desai and Chitrangada Singh starrer I Me Aur Main in 2013.
While there is no clarity on which actress will reprise Sridevi's characters, the late actress herself had last year said she would prefer Alia Bhatt to play her roles if ever Chalbaaz was remade.
"I think Chalbaaz will make for a great remake now. Alia would fit the role perfectly. She is spontaneous and an extremely natural actor. She can look vulnerable, innocent and at the same time, she can be smart and mischievous too," Sridevi had said.
When Alia was asked about this, she had said, "I would love to do Sridevi's role from Mr India. I love that film and I think everyone does. It's been three decades since Mr India released, but it still is a crowd favofavorite you ask me about remakes, this is one film I would love to do."
Watch Na Jaane Kahan Se Aayi Hai song featuring Sridevi and Sunny Deol here: