Veteran actress Sridevi died on February 24 late at night due to a massive cardiac arrest. Her sudden demise left the entire nation in a state of shock and grief. While social media was flooded with condolence messages, one post is going viral on social media because it talks about the pressure that Sridevi was apparently under in order to look young, and how that could have caused her untimely death.
Sridevi's death: Shabana Azmi's Holi party, Rani Mukerji's Hichki event, Urvashi Rautela's birthday bash canceled
The text of the post about Sridevi's plastic surgeries and constant endeavor to look young is being attributed to a woman named Piyali Ganguli, who apparently is close to some Bollywood celebs.
The post, which has gone viral on Facebook and WhatsApp, says Piyali met Sridevi five years ago and found her very beautiful but unhappy.
It adds that Piyali found the Mr India actress always under immense pressure to keep her weight down, have a wrinkle-free face, and do everything possible to hide her age. The Facebook post concluded that Sridevi lacked love for her own self and never trusted her beauty.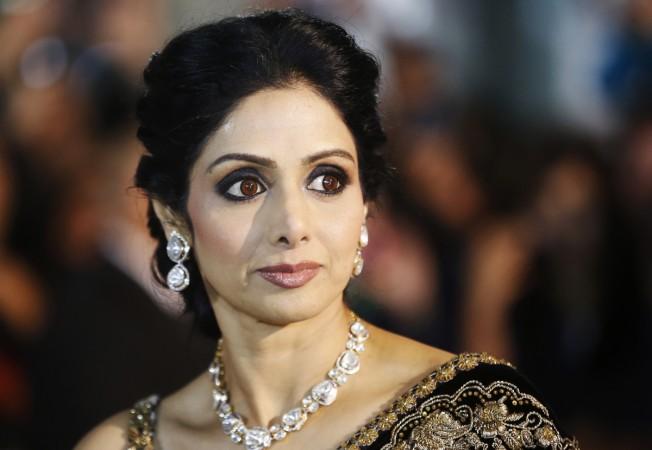 A lot of people have been sharing the post on social media and supporting the views expressed in it. Although the post has gone viral now, IBT India could not track down the original write-up on Facebook.
People have nevertheless been sharing the post, attributing it to Piyali Ganguli.
ALSO READ: Sridevi's popularity in LGBT community: Mr Gay World Sushant Divgikar & Harish Iyer talk about her flamboyance
However, there are some social media users who have expressed suspicion on whether the quote is completely made-up as the original post is not available anywhere.
While some have been supporting the views expressed in the post, some others have been slamming it for what they see as negative comments on the late actress.
Here is the full text of the post:
"While we are all mourning the untimely demise of Sridevi, it is important to remember why this may have happened to her. Society demanded that she stay slimmer/look younger than a 40 year old and hence, the continuous surgeries. When i met her about 5 years ago, she was beautiful but a sad version of that self that we loved so much in a movie like Chandni. What a lot of pressure to keep her weight down, to make sure that her face had no wrinkle lines....continuous clinic visits in Southern California.
"As a friend of mine wrote this morning...do we need a #metoo movement in fashion,#notsize0? Milan has already implemented this but these patriarchical implants were in her head. The husband, who claimed to love her so much should have intervened. Did he love the way she looked as his arm candy more than he loved her? She herself did not trust herself in her own beauty -- she was a clothes horse for whoever would care to dress her.
"What i conclude is such a lack of love for oneself that one's own lips don't suffice, one's own face is not good enough, one's flesh and blood have to be sucked out of her so that she can wear the best of couture. That is the sadness of a life that could have been lived so much better not just for her but for her daughters. What a terrible legacy".
"Her implants, weight loss and excess doses of Botox shots regularly could also be the cause of Cardiac arrest."
Piyali Ganguly's Comments on Sri Devi's sad demise. pic.twitter.com/KZct876IgA

— P Purewal (@PenduShehari) February 25, 2018
Read an awful, awful article on Sridevi by Piyali Ganguly and am thinking how quickly the negativity has escalated.

— Plumper Nickel (@plumpernickel) February 25, 2018
This #Sridevi expert Piyali Ganguly must be a hoax. Random person. Can't seem to find her anywhere except on a viral whatsapp forward.

— Soumyadipta (@Soumyadipta) February 25, 2018
A WhatsApp forward by one Piyali Ganguly doing the rounds analyses Sridevi's death using harsh words like armcandy and self-hatred. Too early and in extreme poor taste, imo.

— WolfMomma Loves Patola (@wolfmomz) February 25, 2018
My response to Piyali Ganguly for her ridiculous post on #Sridevi death doing rounds on social media:

Your presumptions on why she died early are figment of imagination, doled out in worst words for her family and loved ones. https://t.co/EjMhNha7xm

— Deepika Bhardwaj (@DeepikaBhardwaj) February 25, 2018