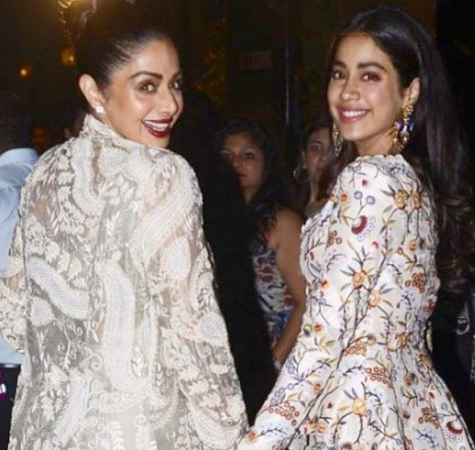 Sridevi's sudden death has left her daughters Janhvi and Khushi bereaved and shocked. Just a few months before daughter Janhvi Kapoor's Bollywood debut, Sridevi died of a cardiac arrest in Dubai. Janhvi Kapoor was really close to her mother Sridevi — this fact was known to all. It was visible that Sridevi was protective and wanted the best for her daughters.
In a viral video circulating online, Sridevi and Janhvi who were seen together at the recently concluded Lakme Fashion Week (supposedly their last public outing), are seen discussing something post which Janhvi apologizes to the media for not giving them a picture. From the video, it looks as if Sridevi probably said no when Janhvi requested her for a solo picture. While Sridevi might have come across as a strict and protective mother it is sweet to see that Janhvi was obedient to her mother and never answered back or created a scene. While a few users online say that Sridevi shouted at Janhvi publicly but the truth seems to be different.
Check out the video:
Sridevi and Janhvi were last spotted together for Akshay Kumar's PadMan outing.
Sridevi never spoke much about her daughters in media. But in one of her interviews, when quizzed about a piece of advice she would like to give her daughters, the Lamhe actress, said, "As a mother, like any mother, whether they are coming to this profession or any other, you just tell them to do the right thing. Like, do hard work, give your 100 percent, hard work always pays."
Also, while talking to DNA, she said, "We can't run away from that. She has to face the pressure. When she has decided to enter Bollywood, she has to go through all this. She's prepared for all that, and I am also preparing myself for it. Sometimes, it scares me. So many thoughts come and you feel why is she doing this? But then, if you feel that is her aim and happiness, as a mother, I will support her like my mom supported me. We weren't from a film background but it happened and she stood by me, fought for me and made sure I am happy. That's how I would also like to be with Janhvi."