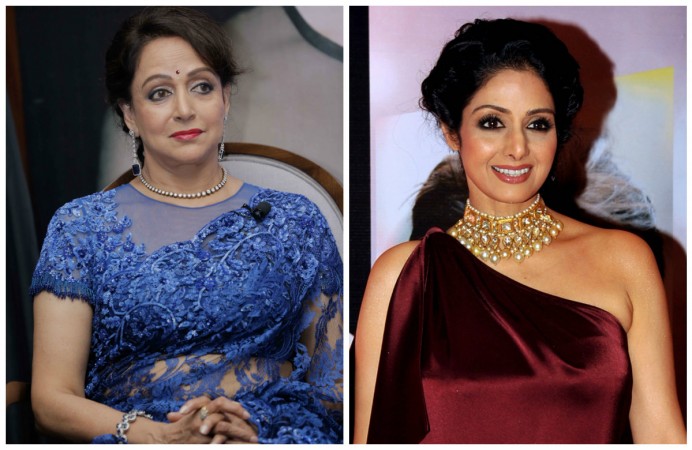 Actress Sridevi, who passed away in Dubai on Saturday night, is regarded as the first female superstar of Bollywood. However, many believe that it is Hema Malini who deserves the tag and a debate is raging on the internet on the matter.
Not just fans, many media houses also addressed Sridevi as the first female superstar of Bollywood. While there is no doubt the Hawa Hawai actress was a superstar of her era, a large number netizens wanted to bestow the first female superstar tag to Hema Malini.
Hema rose to fame much before Sridevi, some netizens pointed out. Their argument goes like this: Seeta Aur Geeta had made the "dream girl" Hema a superstar, while Sridevi became a star with Himmatwala.
Seeta Aur Geeta was released in 1972, while Himmatwala hit the screens much later in 1983. Hema's Seeta Aur Geeta is being compared with Sridevi's Chaalbaaz as both the actresses had played double roles in their respective films, and they both had played iconic characters. But, Chaalbaaz got released in 1989.
Not just Hema, some are saying there are other actresses like Madhuri Dixit and Rekha who were no less in stardom during that era. However, none refused to acknowledge Sridevi's achievements in her long career.
All news channel describe Sridevi as first female superstar. As if Hema, Rekha never existed. In earlier times, there were actresses like Suraiya, Devika Rani who commanded more screen space, had bigger fan following than any actor in their time.

Media creates hype.

— Desh Deepak Misra (@ddmisra) February 25, 2018
I am fan of (Ms.India Sridevi) ...and just like you grow up watching her films... first being Thofa influenced just for songs shown in Chitrahaar.

But it may be injustice to say Sridevi as first woman superstar when Hema Malini was in much higher levels - at that stage.

— Tinger Bujji #SrideviRIP (@Chandra46440683) February 25, 2018
Lot of superstars b4 her even Hema Malini was a much bigger super star taking nothing away frm Sri Devi

— Farhan (@bulbulenalaan) February 25, 2018
Female Superstars:

Hema Malini: Seeta Aur Geeta, She overshadowed Dharmendra & Sanjeev Kumar#Sridevi: 1985-1993 No.1 Superstar. ChaalBaaz, She Overshadowed Sunny Deol & Rajnikanth

Madhuri: Overshadowed Anil Kapoor in Beta, gave BB with flop actors like Sanjay Kapoor & Salman.

— SHAH RUKH KHAN. (@iamsrk_brk) February 25, 2018
Hema Malini was the first female superstar. Undoubtedly. You have to watch Seeta aur Geeta, Khusbu, kinara, Meera etc. What Sridevi did in 90's Hema did it in 70's & 80's. Though I mean no disrespect to Sridevi.

— Arvind S Dev (@ArvindWrite) February 26, 2018
I could not adore Sridevi more, but she was not "India's first female superstar", she was one of a select few. That does not take away from her extraordinary talent. I find it disturbing that even film critics seem to have either not know or not care about film history.

— Faiza S Khan (@BhopalHouse) February 26, 2018
Has been bothering me also, this desire to claim primacy or uniqueness. So ahistorical. Sridevi had opening power, but she was by no means the first - Meena Kumari, probably Suraiya, quite likely Devika Rani - all had similar. Doesn't detract, so why claim?

— Saugato Datta (@sd268) February 26, 2018
After Sridevi's untimely death, Hema spoke highly of the late actress, and even she addressed her as a superstar. "I value her for her sanskars as in spite of achieving the highest position of superstar in Bollywood, she never compromised with the south Indian sanskars inculcated in her," IANS quoted Hema as saying.
Sridevi died recently at a hotel in Dubai where she had gone to attend Mohit Marwah's wedding. While initially it was reported that the Hawa Hawai actress had passed away due to massive cardiac arrest, the forensic report later stated that she died due to accidental drowning. Traces of alcohol were also found in her body.