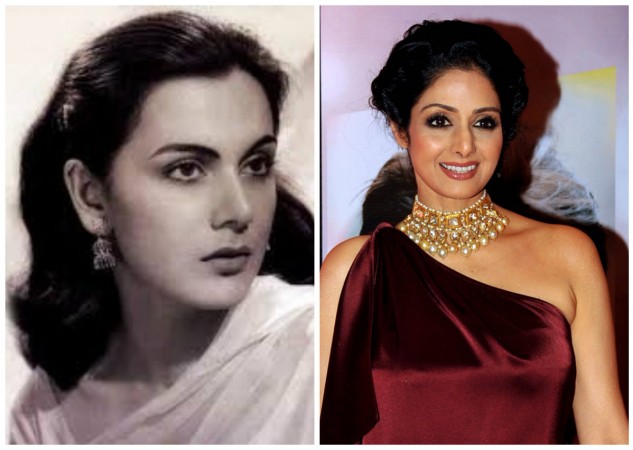 The series of events surrounding Bollywood actress Sridevi's death has some striking similarities with the demise of another B-Town actress, Priya Rajvansh. Not just that, the two women had some interesting similarities in their filmography and personal lives as well.
Sridevi died on February 24 under unusual circumstances in Dubai. The Dubai authorities, having declared accidental drowning as the cause of her death, have closed the case, and her funeral is happening on Wednesday.
Although the possibility of any foul play in the demise of Sridevi has been ruled out, a large section of people is not convinced. On the other side, Priya and her death in the year 2000 have a number of similarities with Sridevi's case, except the fact that the former was later proved to have been murdered.
Priya Rajvansh may have acted in only seven films between 1964 and 1986, but she received top billing in almost all of them. She is best known for her roles in films like Haqeeqat (1964), Heer Ranjha (1970) and Hanste Zakhm (1973).
Here are the strange similarities between Sridevi and Priya Rajvansh, and their untimely deaths:
Both Sridevi and Priya Rajvansh were found inside a bathroom.
In both the cases, the cause of death was initially declared to be cardiac arrest/heart attack.
Sridevi's forensic report stated that traces of alcohol was found in her body, and Priya had also reportedly consumed alcohol before her death.
Priya had played the character of Heer in the film Heer Raanjha (1970). Sridevi too had played the role of Heer in Heer Ranjha (1992).
Both the ladies were the "second woman" in the lives of the eldest among three famous brothers (Chetan Anand, Dev Anand and Vijay Anand for Priya Rajvansh; and Boney Kapoor, Anil Kapoor and Sanjay Kapoor for Sridevi).
While initial reports in 2000 said Priya had died of natural causes, it was later proved that she was murdered. The similarities between Priya and Sridevi's deaths end from this point onwards.
The similarities between the two actresses are meanwhile doing the rounds in the form of WhatsApp forwards.
Bollywood has till date witnessed a number of mysterious deaths. While some of the cases reached convincing conclusions, some raise questions even today.
One of the most-talked-about mysterious deaths was that of Divya Bharti. She died after falling from the fifth floor of a building, but it is still not known if it was an accident or someone pushed her to her death.
Guru Dutt had died due to the mixing of alcohol and sleeping pills. While his family had claimed it was an accident, many believed that the actor had committed suicide.
One of the most recent controversial deaths was that of Jiah Khan. While it was initially reported that the actress committed suicide, her mother alleged that she was murdered. Her boyfriend Sooraj Pancholi is the main accused in the case. The case is currently in a sessions court in Mumbai.