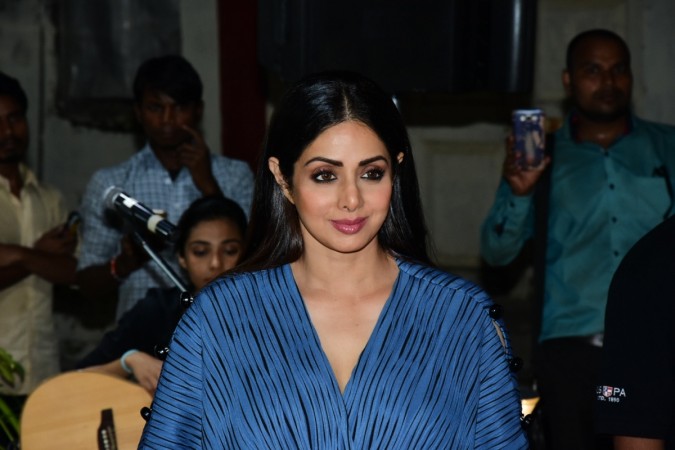 Questions surrounding the death of Sridevi have given rise to speculations and doubts among people. They are now asking whether this was a case of accidental drowning at all, or if the actress was murdered.
Sridevi passed away at a hotel room in Dubai on February 24 late night. While initially it was reported that she died due to a massive cardiac arrest, a forensic report later stated accidental drowning as the cause of her death.
The forensic report said Sridevi drowned in a bathtub after she lost balance and fell in it. Traces of alcohol were also found in her body, according to the report.
However, people have taken to Twitter to ask how someone — especially when that person is as healthy as Sridevi — can drown in a bathtub. Contradictory reports have also made people suspicious about the entire episode.
A Khaleej Times report had quoted a source as saying that Sridevi's husband Boney Kapoor left for Mumbai after the family wedding, but later returned to the Dubai hotel on Saturday at around 5:30 pm to surprise the actress.
Boney reportedly invited Sridevi for dinner after chatting with her for about 15 minutes, following which she went to the bathroom. Realizing 15 minutes passed, and Sridevi was still inside bathroom, Boney knocked on the door, but got no response, the report stated.
Boney then somehow opened the door and found Sridevi lying unresponsive in the bathtub filled with water, said the report. Boney apparently called a friend failed to revive her, and finally informed the police at 9 pm. The cops and paramedics arrived on the site, but she was declared dead, the report said.
The biggest question that came up in people's mind here is why Boney took so long to inform the police.
On the other side, some other reports provided a completely different sequence of events. Some reports said it was the hotel staff that first discovered Sridevi inside the bathroom after she did not come out of the room for two days.
These contradicting reports and many questions are leading people to speculate that accidental drowning might not have been the reason for Sridevi's death, and that she might have been actually murdered.
Some of the questions that people are asking on social media are:
Was there any head or bodily injury if she had lost balance and fallen?
Was the bathroom door already open?
If not, who opened the bathroom door after Sridevi collapsed, and how?
Did water splash out of the bathtub when she fell into it?
Although an Asianet report on Tuesday said that injury marks were found on Sridevi's head, nothing was talked about any injury mark when the forensic report initially came out.
There is now a series of tweets from people who suspect Sridevi was murdered. Some even compared this death with that of Congress MP Shashi Tharoor's wife Sunanda Pushkar, who was found dead in a hotel room under mysterious circumstances.
Even Bharatiya Janata Party leader Subramanian Swamy seemed to buy into the foul play theory.
"Let's wait for the prosecution to pronounce it. Facts in media do not appear to be consistent. She never drank hard liquor, how did it enter her system? What happened to CCTV? Doctors suddenly appeared before the media and said she died of heart failure," he told ANI.
"It is very difficult to die and drown in a bathtub unless somebody pushed you or prevent you from breathing," Swamy told Times Now.
14

never forget that #Sunanda was also killed in hotel room not home and Spouse was not round

Exactly same plot in #sridevi except that this was staged in DUBAI, not Mumbai#SRIDEVI was murdered. I am saying this with full responsibility based on the most credible source Info

— #GauravPradhan ?? (@DrGPradhan) February 26, 2018
Sridevi was murdered. If you think otherwise, you're dumb.

— NaWaf (@TheCristianoWay) February 26, 2018
I don't think #Sridevi died by cardiac arrest. This is not good. She even recently attended a media conference with her daughter. She is in good health. She may be poisoned or murdered. Think police need to dig deep to find out the truth. We miss you and my deep condolences

— Siril Mathew (@itzmesiril) February 25, 2018
I have a feeling that Sridevi was murdered. How can someone drown in bathtub?
Plus she was a healthy person. Sudden cardiac arrest?? Impossible

— Farrago Mriganka⏺ (@Gswmi_Mrgn) February 26, 2018
Sri Devi is murdered by Boney Kapoor. He is Nasty. Please Investigate. Sri Devi never die on her own will. She is much stronger. Why Boney has to come back from India. What he has done from 5.30 till 9 pm in that room on his own. Why he called his friend rather than hotel staff

— Dr. Shiva Narayn (@DrShivaNarayn) February 26, 2018
I'm not one to speculate but sridevi might've been murdered. I really don't believe it was an accidental drowning because although she did have alcohol in her system it wasn't enough to impair her to the point where she couldn't get up from the bathtub -

— petty labelle (@brwnjawn) February 26, 2018
#SrideviDeathTwist is last in line of controversial deaths. Divya Bharati, Sunanda Pushkar and now Sridevi. There's no concrete evidence that all of them were murdered but due to lack of trust on govt agencies, things look gloomy till date. Hope all cases are solved soon.

— Jaydeep Bapat (@Jaydeep_Bapat) February 27, 2018
Meanwhile, the Kapoor family has been given a clearance letter by the Dubai authorities, and Sridevi's body is being flown back to India on Tuesday.