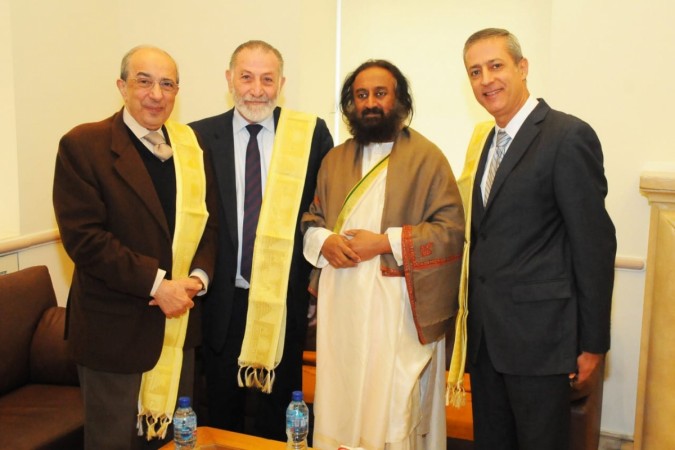 After a historic visit to the UAE, global humanitarian and voice for peace and diversity, Gurudev Sri Sri Ravi Shankar was accorded a warm welcome in Lebanon by statesman, scholars, policymakers and the general public alike.
During his brief visit, Gurudev met Lebanese President Michel Aoun at his presidential palace and Prime Minister Saad Hariri to discuss the ongoing civil war in Lebanon. Aoun lauded Gurudev's efforts in conflict resolution in the region. Gurudev was visiting the middle eastern country after 15 years.
The founder of The Art of Living in his interaction with the state leaders discussed solutions to root out the trauma from the difficult past that the country has been through and usher in an era of peace and stress-free living.
Sri Sri Ravi Shankar-founded International Association For Human Values has been working with the locals and the refugee communities (including Syrian refugees) in Lebanon and Jordan to provide rehabilitation and trauma relief with a vision to help them rebuild their lives more meaningfully.
"Our main thing is to see that we are all connected," Gurudev said as part of an interactive session with Prof. Louis Saliba, author and Indianist scholar at an event titled 'Celebrating Diversity - Intercultural and Interfaith Reflections', "All religions are connected and it all comes down to the root of them all which is spirituality. Differences should not lead one to conflicts and unity should not weaken our roots."
Welcoming Gurudev as "one of the global ambassadors of peace, goodwill, brotherhood, cultural understanding," Mr. Sanjiv Arora, Indian Ambassador to Lebanon, shared while speaking at Waves of Happiness event in Beirut which was attended by over 1700 participants, "Wherever he travels, he makes friends and I would say that that is very true of Lebanon, a country with whom, India's friendly relations are steeped in history. His brief visit here brings this message of peace, love, brotherhood and also reaffirms the historic ties of friendship between Lebanon and India."
Gurudev later also visited the Children's Cancer Center in Lebanon that treats children with cancer for free.
Through a series of workshops in Lebanon and Jordan (in and around Syrian refugee camps - Al-Za'tare, Al Mafraq, Al Zarqa and Al Azara governorates), Sri Sri Ravi Shankar-founded International Association For Human Valued has reached out to over 3000 war-affected children, 350 vulnerable youth, frontline workers, caregivers and families in highly vulnerable areas of Jordan and Lebanon since December 2016.
Art of Living in Jordan and Lebanon
● Gurudev Sri Sri Ravi Shankar has visited Jordan and Lebanon earlier as part of his peace mission. During the 2006 Lebanon-Israel conflict, The Art of Living and IAHV volunteers actively helped people on both sides of the conflict cope with the severity of the situation.
● Around 2,500 people have taken the Art of Living programs in Lebanon.
● The foundation has been operational in refugee camps in Tripoli since last 2 years.
● Programs for women are being conducted in South Lebanon
● To reduce these symptoms and help the children cope with their new reality, IAHV has conducted Stress Relief and Resilience (SRR) workshops for numerous children.
● In December 2016, IAHV also spearheaded an 18-month long project co-funded by the European Union, "Healing, Resilience, and Non-Violent Empowerment of Children impacted by Armed Conflict in Jordan Lebanon" with an aim to enhance the well-being, resilience and psychological reintegration of 8,000 children impacted by armed conflict