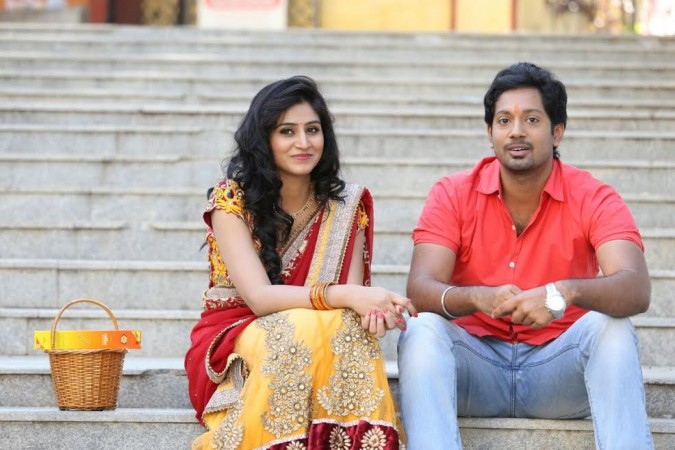 Actors Sudheer Babu and Sunil released the teaser and a song from Sri Ramaraksha starring Rajith, Shamlee, Nisha, Vijay Kumar, Jyothi, Shankarabharanam Rajyalakshmi and Kasi Viswanath
Sri Ramaraksha is directed by Ramu and produced by Prabhat Varma under the banner Vasishta Cine Academy. Sudheer Babu and Sunil attended its teaser and song launch event held in Hyderabad as chief guests. They unveiled a song from the movie along with its teaser on the occasion and praised the cast and crew for their work in the film.
Talking about the film, Sunil compared Sri Ramaraksha to Seetaramayyagari Manavaralu. "This film reminds me of Seetaramayyagari Manavaralu and I just feel the way I had felt when I watched the film. As the title suggests, I hope the film and its unit has the blessings of Sri Rama," the comedy actor said.
Sudheer Babu said Sri Ramaraksha has good story and it will be hit at box office. "If small films have to reach the audiences, they need ample support and that's why I am here today. In fact, small films are proving to be very good performers at the box-office these days and looking at the teaser of Sri Ramaraksha and it brilliant visuals, to me it seems like a content-based film. I hope everyone likes this film," he said.
Palnati Surya Pratap, who earlier directed Sukumar's Kumari F21, wished success to the unit of Sri Ramaraksha. "The teaser is great and is generating a great deal of interest about the film. I wish the director, producer, and the entire unit success," Surya Pratap said.
Kedarnath has written the lyrics for the song of Sree Ramaraksha. "Being able to stand on this platform as a lyricist is a great honour and for this I should thank Sukumar. Our mother, father and teacher are the Sriramaraksha we can see. Sudheer Babu and Sunil who are helping us take this film to the audiences are the Sri Ramaraksha we can see. I heartfully thank the director and producer for the opportunity," he said.
Music director Sabu Verghese, Anand Ravu, Vijay and others were present at the function. Prabhat Varma said that the film will be a hit with audience. "Sunil may have compared this film with Seetaramayyagari Manavaralu, but this story is actually that of Seetaramayya's grandson! It is a pleasant film which will impress all," the producer said.