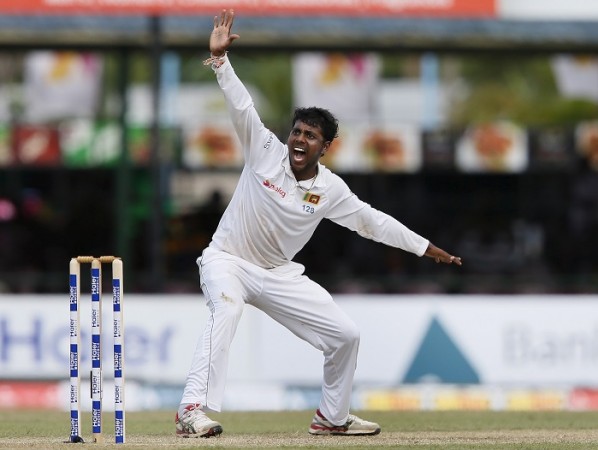 Sri Lanka defeated Pakistan comprehensively by seven wickets in the second Test match at the P Sara Oval on Monday.
After the loss in the first Test match at Galle, Angelo Mathews and co bounced back strongly and put together a great show to seal the victory. It was indeed an all-round performance from the Lankans, especially the youngsters who have gone on to set new standards for themselves.
Especially, Tharindu Kaushal and Dushmantha Chameera have bowled well in this Test match. Mathews have noticed that he feels that these two youngsters can do wonders for Sri Lanka in near future and they have to managed really well in the upcoming Test matches.
"Those two are players who can do a lot for Sri Lankan cricket. We have to manage them very carefully - especially Chameera. I haven't seen a faster spell than he bowled in this Test match. He's very quick. He clocked 149.9 kph which is extraordinary for a Sri Lankan but also for any bowler around the world.
"Tharindu Kaushal turns the ball. I understand that he's raw, but he's got more than 200 wickets in first-class cricket and we have to be positive with him. Test cricket is completely different, but unless we give them opportunities, we won't know what they can do. It wasn't a gamble to select them," said Mathews in an interview to Espn Cricinfo on Monday.
Kaushal have turned the ball consistently and Chameera has bowled at a superb pace. Although Dhammika Prasad stole the show in the second innings and later he was also adjudged the man of the match for his brilliant bowling performance.
"Dhammika bowled brilliantly throughout the Test match. He showed maturity throughout the last two years - helping us win that second Test in England, and also here. There are good signs as far as the fast bowlers are concerned.
"We've got a set of good fast bowlers where they can change modes, they can attack or they can stick to line and length. Bowling coach Champaka Ramanayaka has been doing a great job. They've been showing a lot of maturity," Mathews added.
Rangana Herath has managed to pick up only two wickets and his figures suggest that he is definitely out of form and that could be a point of concern for Mathews and his side. But the skipper was happy with the win and is hopeful that his primary match-winner will be back in form soon.
"What Rangana Herath usually does was shared around by all four bowlers. We didn't expect too much from him. At some occasions Rangana does well, and on other occasions other players step up. We're not looking to load anyone up with unfair expectations. Sometimes a bowlers doesn't do huge service to the team, but even if he's not getting wickets, he's preventing batsmen from getting quick runs. He did a lot of that this Test," Mathews concluded.