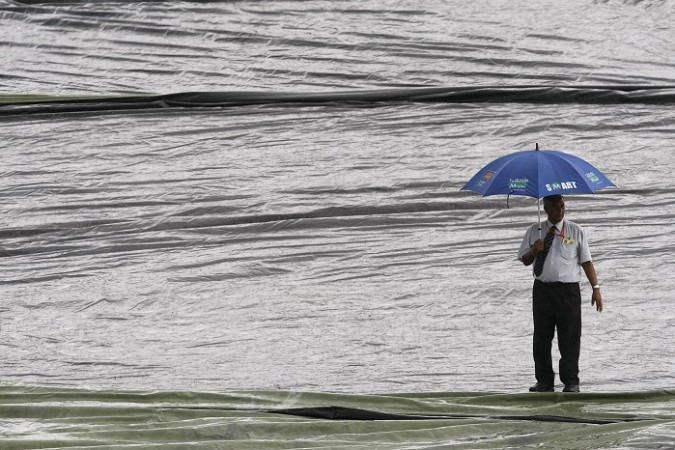 The first day of the first Test between Sri Lanka and Pakistan has been washed out due to rains. It rained so heavily that the teams decided not to venture out of their hotels.
The weather report had suggested earlier that it might rain during the Test match at Galle. This part of the island receives heavy rainfall during the night hours almost everyday, according to Espn Cricinfo. But today (17 June), it rained incessantly from morning, forcing match officials to cancel the first day's play.
The play is scheduled to start half an hour before the normal time on Day 2 and the toss will happen at 9:15 am local time. If the rain gods show mercy, the familiar rivalry between Sri Lanka and Pakistan will resume on Day 2 of the first Test match.
The match will now be curtailed to four days. The follow on score have also been revised to 150 runs instead of the normal 200.
The monsoon has already entered Sri Lanka. It is surprising that despite knowing the weather conditions, the two Boards (Sri Lanka Cricket and Pakistan Cricket Board) agreed for a long series. Sri Lanka will be playing three Test matches, five ODIs and two Twenty20 (T20) games against Pakistan.
Pakistan have come to play this series without their veteran off spinner Saeed Ajmal as their selectors decided to leave him out of the squad and give youngsters a chance. This decision came as a surprise to all, inculding the Sri Lankan side.
Sri Lanka skipper Angelo Mathews had said ahead of this match that Ajmal is indeed one of the best spinners in the world, but Pakistan have a good bowling lineup even without him.
Sri Lanka, on the other hand, have not played any match after the ICC World Cup 2015 in Australia. They might be caught on the rusty front by the visitors but the hosts will be banking on the incredible record of veteran left-handed batsman Kumar Sangakkara against Pakistan. He averages over 80 and has hit three double tons against them. It will be interesting to see how the game progresses.
Sri Lanka will also be donning the white jersey at home after almost a year and that too without their legendary batting genius Mahela Jayawardene.