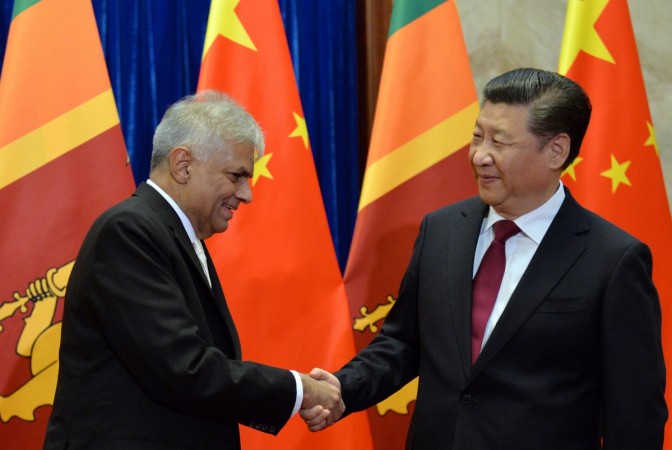 Sri Lanka's economic troubles are forcing President Maithripala Sirisena's government to strengthen relations with China, with the island nation offering equity to Chinese firms in infrastructure projects in return for waiving some of the billions of dollars of debt it owes Beijing. The call was taken during Sri Lankan Prime Minister Ranil Wickremesinghe's visit to China.
While Sirsena was seen to change course of Sri Lanka's relations with China as shaped by pro-Beijing President Mahinda Rajapaksa, his government is now retracing ties with Beijing, even receiving an offer of 500 million yuan from the latter, which was described as a "gesture of friendship" between the two countries, according to Colombo Page.
Wickremesinghe told the media in Beijing Saturday the country was seeking to "reduce the current debt by inviting Chinese companies, Chinese investors, to look at some of the enterprises in Sri Lanka, the state-owned enterprises, with a view to taking at least part of that equity over," according to Reuters. Sri Lanka reportedly owes $8 billion to China.
"We've been talking with some companies and also the government of China about the possibility of some infrastructure projects becoming public-private partnerships, in which part of the debt will become equity held by the Chinese companies," he said.
Last month, Colombo gave the green signal to a $1.4 billion China-backed project to build a port city in Colombo, which is said to be biggest ever single foreign investment received by the South Asian nation. While the Sirisena government had kept the project on hold last year after it called for a review of real estate projects approved by Rajapakse, the government allowed the resumption of the infrastructure plan.
The Chinese state-owned company behind the project, China Communications Construction Company, had reportedly sought a compensation of $125 million for the delay, but Wickremesinghe hoped it would be "settled" with talks.
"The company has asked for additional compensation in view of the fact they say there has been a delay. But I think we can talk and settle it," the Sri Lankan prime minister reportedly said.
Chinese President Xi Jinping, who met Wickremesinghe Friday, said Beijing's assistance to Sri Lanka did not depend on a particular political party or individual, according to the Colombo Gazette, thus signalling China's ambitions in the island nation despite a change of regime.