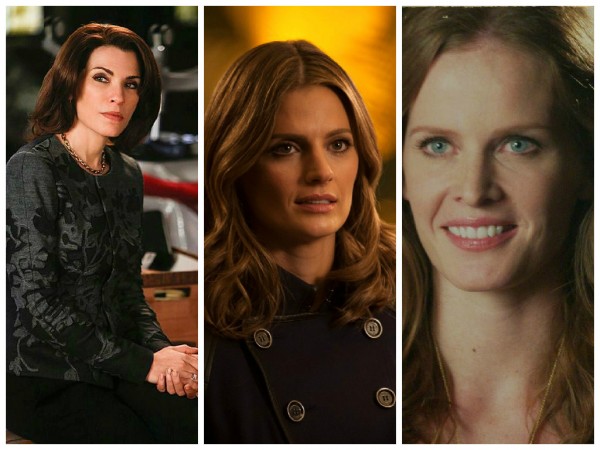 As several popular prime time television series, including "Once Upon a Time", "The Good Wife" and "Castle", are on a hiatus that will only be back with new seasons in September, viewers are eager to learn what's next on these shows.
The cast and crew have spilled out a few details on the upcoming sequels of the various programs, such as the cast updates. While new members will join many of the programmes, a few of them have demoted the series regulars.
Read on to know more about popular prime time television dramas that will air new seasons this fall:
Once Upon a Time: Popular fairy tale series will be back on ABC with Season 5 by 27 September and it will air at 8 pm. It is likely to revolve around the love triangle between Evil Queen Regina Mills (Lana Parrilla), Robin Hood (Sean Maguire) and Zelena aka Wicked Witch of the West (Rebecca Mader). Executive Producer Edward Kitsis has already revealed that Mader's character will give birth to her baby in the upcoming sequel.
Kitsis even stated that Sinqua Walls will reprise his role as Sir Lancelot. "Oh man, you can't go to Camelot and not see Lancelot," he told Entertainment Weekly.
The Good Wife: When the legal drama returns on CBS with Season 7, it will focus on Alicia Florrick (Julianna Margulies) and Cary Agos' (Matt Czuchry) friendship. Actor Czuchry dished out a few details about the upcoming sequel while chatting with E!Online.
"I think what could be interesting is if they're on opposite sides, but they're in a different place in terms of their connection. They are friends and I think there's a mutual respect there, so if they are against each other but have that friendship at the same time, those gray areas, to be able to play that, would be interesting," said the celeb.
Castle: The crime drama will introduce a new cast member when it returns on ABC with Season 8 by 21 September. The bold and beautiful security personnel named Hayley will reportedly spend lot of time with Richard Castle (Nathan Fillion), according to TV Line.
So it can be assumed that the cop might bring some nightmares to detective Kate Beckett (Stana Katic) and could spark jealously in her mind.