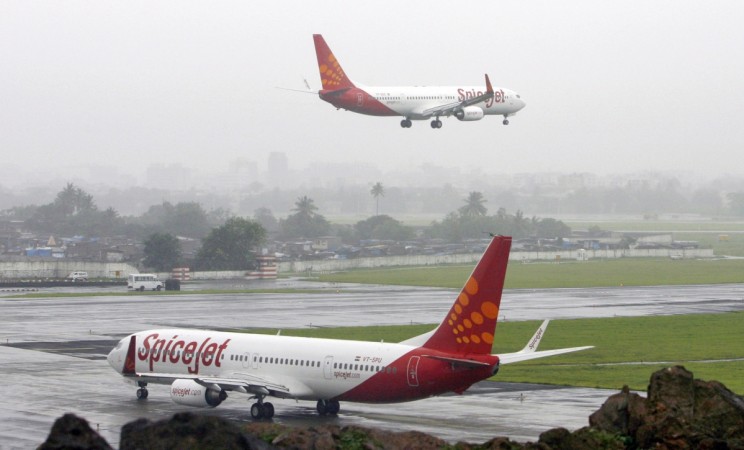 SpiceJet shares rose almost 20 percent on Wednesday as the budget carrier reported a more than 100 percent increase in net profit to Rs. 142.9 crore for the first quarter (Q1) ended June 2016. The Ajay Singh-controlled carrier had posted net profit of Rs. 72.9 crore in the corresponding period last year. A fall in fuel and finance costs enabled the company to post a sharp rise in net profit.
The Q1 results were announced minutes before the close of trading hours in a regulatory filing to the Bombay Stock Exchange (BSE).
SpiceJet stock rallied 19.96 percent to touch an intraday high of Rs. 67.60, but later pared gains to close at Rs.65.30, up 15.88 percent.
Total income from operations stood at Rs. 1,521.52 crore in Q1, up 36.65 percent from Rs. 1,113 crore in the year-ago period. Fuel costs dropped 11.36 percent to Rs. 399.67 crore in Q1 from Rs. 358.88 crore in the quarter ended June 2015. Finance costs also declined sharply to Rs. 20.88 crore from Rs. 28.64 crore in the corresponding quarter last year.
In July, SpiceJet witnessed a fall in market share of domestic air traffic to 11.7 percent from 12.7 percent in the quarter ended June 2016. In absolute terms, the carrier flew 9.94 lakh passengers in July. Its passenger load factor (PLF) also fell marginally to 92 percent in July from 93 percent in the previous month.
The airline announced commencement of flights to Guwahati, Silchar and Aizwal from October in a bid to boost connectivity in the region.
"North East, despite being a crucial tourist locale, has been deprived of good air connectivity. Hence, our new schedule lays special attention on this region, connecting the major hub-ports of the seven sisters states and we look forward to further strengthen our presence in this market in the near future," Shilpa Bhatia, senior vice president at Spicejet, said in the statement.
Shares of Jet Airways gained 4.04 percent to close at Rs. 549.35 apiece, while IndiGo-owner Interglobe Aviation shares ended almost flat at Rs. 872.35.