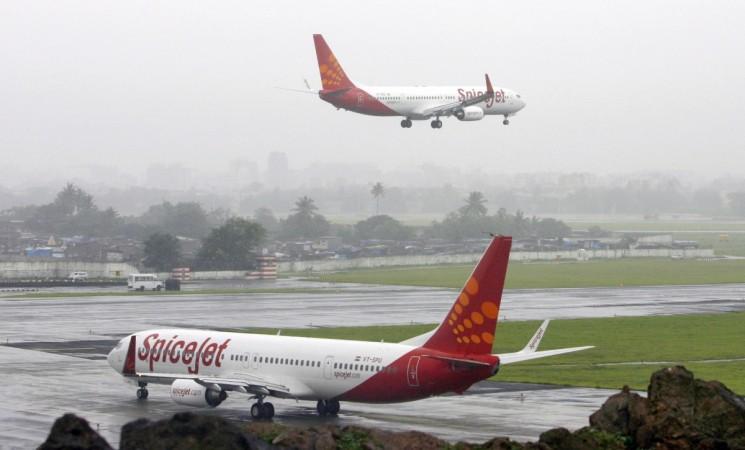 Budget carrier SpiceJet on Wednesday announced that is has formed a new subsidiary to sell consumer goods through various channels. The share price of the Ajay Singh-promoted carrier rose almost 7 percent on the Bombay Stock Exchange (BSE).
"This is to inform you that the Company has incorporated a wholly owned subsidiary namely SpiceJet Merchandise Private Limited which shall engage in the business of consumer merchandise and goods that will include electronic items, readymade apparels, accessories etc. through various channels viz., in flight sale, online platform, airport shops, retail outlets, etc.," SpiceJet said in a regulatory filing to the BSE.
The SpiceJet stock closed at Rs. 66.25 on the BSE, up 6.77 percent from its previous close. In the past one year, share prices of the company have more than doubled from Rs. 26.60, the closing price on July 28, 2015.
Competing with other low-cost carriers such as IndiGo, AirAsia India and Go Air in India, SpiceJet is the fourth-largest air carrier in the country, currently the world's fastest-growing airline market.
SpiceJet has a market share of 12.7 percent in the domestic air traffic business for the quarter ended June 2016, according to data published on Tuesday by the country's civil aviation regulator, the Directorate General of Civil Aviation, or DGCA.
SpiceJet has also maintained passenger load factor at above 90 percent for the last six months.
There are other listed aviation companies in India — Jet Airways and Interglobe Aviation Ltd., which is the parent company of IndiGo.
Jet Airways closed 2.74 percent higher at Rs. 581.60, while Integlobe Aviation gained 0.44 percent and ended at Rs. 945.65. Interglobe Aviation will be announcing its June quarter results on Aug. 1.
Other players in the domestic aviation space in India include Nusli Wadia Group's Go Air, state-run Air India, Tata Group ventures Vistara and AirAsia India and other regional carriers.
Indian air carriers flew 79.75 lakh passengers in June this year, up 20.8 percent from 66.01 lakh passenger carried in the corresponding month last year.
During the quarter ended June, domestic aviation companies carried 245.76 lakh passengers, according to the DGCA data.