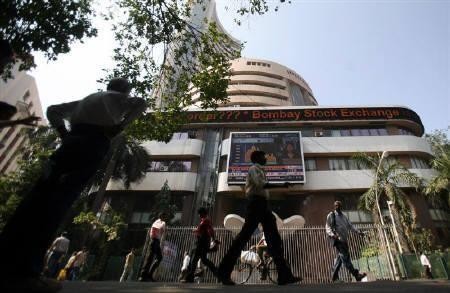 With Indian stock markets facing heavy losses in the past few trading sessions, concerns raise over their future trajectory as the markets suffer from lack of triggers, high valuations and poor corporate earnings.
Declining from a record high of 30,000 touched in early March, the benchmark BSE Sensex now trades just under 28,000, down 5% from its peak. The 30-share BSE Sensex rose 214.09 points to close at 27890.13 on Wednesday, snapping a five-day losing streak.
"There are a number of reasons to explain the reversal of fortunes. For a start, confidence over the government's reform agenda may be waning a little. In particular, the Finance Ministry's plans to retrospectively tax both foreign and domestic companies are likely to have unnerved investors," said Capital Economics in a note.
Despite the recent losses, the Sensex is still outperforming the World MSCI and EM MSCI indices leaving the valuations looking stretched.
"Looking ahead, with valuations still looking stretched and uncertainty over the government's tax policy unnerving investors, a spectacular rebound in the equity market seems unlikely," said Capital Economics.
However, the recent decline may just be a correction following a strong rally in the previous months, it added.
The ongoing tactical correction is a healthy consolidation and investors waiting on the sidelines should use this as an opportunity to realign their portfolios, Deutsche Bank said in a note to NDTV Profit.
"While investors remain positive over India's long term prospects and an energetic government focused on reforms, the translation of the positive macro to an on-the-ground improvement in the economy or earnings, has been far slower than anticipated," the bank added.
Deutsche Bank reiterates that Sensex to reach 33,000 by year-end.