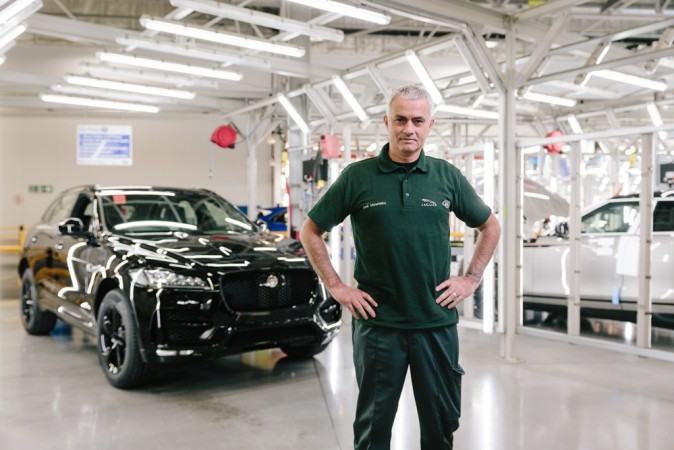 Jose Mourinho, the manager of English Premier League club Manchester United has become the 100,000th Jaguar F-Pace customer. The Portuguese coach aka The Special One visited Jaguar Land Rover's factory in Solihull, to watch employees build his new car.
Mourinho wore bespoke Jaguar t-shirt and made his way directly to the factory floor to oversee the production of his car and helped the team as it moved along the production line. Mourinho gave a team talk to the employees, motivating them and talking about having pride and passion in work, and the products they deliver.
"It was an amazing experience to visit Jaguar's factory and see all the cars, technology and hard work that goes into developing such a beautiful car. Jaguar is a brand that I have been involved with for many years. Back in 2014, I was the first UK customer to receive the F-Type Coupe and now to become the 100,000th Jaguar F-Pace customer is something that is very special," said Mourinho.
In 2016, Mourinho test drove the Jaguar F-Pace as part of an extreme high-performance driver training experience in the Arctic Circle. He has mastered the art of high-speed drifting and full throttle ice-driving on a 60km frozen lake at Jaguar's extreme testing facility in Arjeplog, Sweden.
"It's great to have one of the most successful football managers drive the F-Pace, our SUV that has been voted as the best and most beautiful car in the world by the 2017 World Car of the Year jury. Just like Jose Mourinho, the F-Pace is all about individual style and top performance," Ian Callum, Director of Design at Jaguar commented.
The F-Pace is the fastest selling Jaguar ever and also the fastest Jaguar model to touch the one lakh sales mark. The performance crossover is sold in Prestige, R-Sport, Portfolio, S and First Edition variants all over the world.