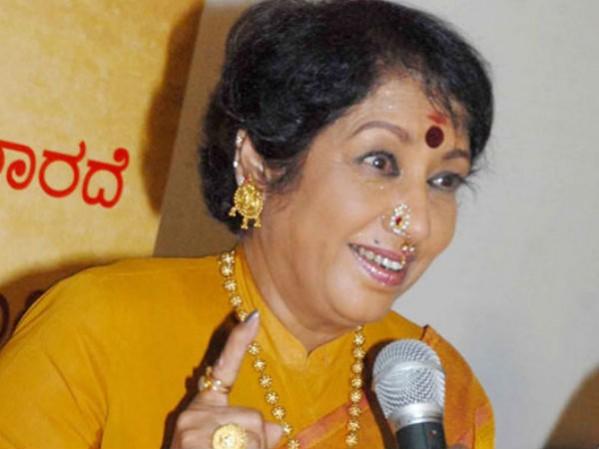 Veteran south Indian actress Jayanthi aka Kamala Kumari joined the ranks of many eminent Hollywood and Bollywood celebrities as well as sportspersons when she fell prey to a death hoax.
Reports of her death came up soon after she was hospitalized March 25. It has now been confirmed that the reports are not true as Jayanthi is recovering in hospital.
Jayanthi was admitted to Sidvin Hospital in Bangalore after complaining of respiratory problems. She was later shifted to Vikram Hospital and kept under ventilation as her condition was critical.
Reports soon emerged from some quarters claiming that Jayanthi had passed away. The fake news of her death started circulating on social media, leading her son to rubbish the reports.
"There is no truth in the news of Jayanthi's death. Some TV channels reported that she was dead, which is untrue, as they were confused regarding her health," Sakshi.com quoted Jayanthi's son as saying.
He had earlier said Jayanthi was an asthma patient and had been using inhalers for 35 years to overcome the symptoms. However, this was the first time she had had to be hospitalized over to breathing issues.
"She has been suffering from asthma for 35 years. She used inhalers every day and was never admitted to hospital over breathing issues. Last evening, her health started deteriorated and she was taken to Sidvin Hospital. Based on doctor's advises, we shifted her to Vikram Hospital in Cunningham Road," he had told reporters.
Out of over 500 movies she has worked in, Jayanthi had appeared as the female lead in over 300 films. Best known for movies like Miss Leelavathi, Sri Krishnadevaraya and Edakallu Guddada Mele, the 73-year-old actress worked not just in Kannada, Tamil, Telugu and Malayalam movies, but in some Hindi and Marathi films as well.
Honored with the title "Abhinaye Sharadhe" by the Kannada film industry, Jayanthi also won two Karnataka State Film Awards for best actress, the President's Medal for best actress and two Filmfare Awards for best actress. She was also known as the most bold and beautiful actress of Kannada film industry.
Jayanthi is not the first celebrity who fallen victim to such a death hoax. Fake death reports of many big stars, like Amitabh Bachchan, Dilip Kumar, Shah Rukh Khan and Rajinikanth, have over time led to an uproar on social media.
Just recently, fake news of Hollywood actor Sylvester Stallone's death was also being circulated on social media. Some images showing the actor in a bad shape were also doing the rounds. Later, Sylvester himself took to Twitter to clarify that the rumours of his death are false.