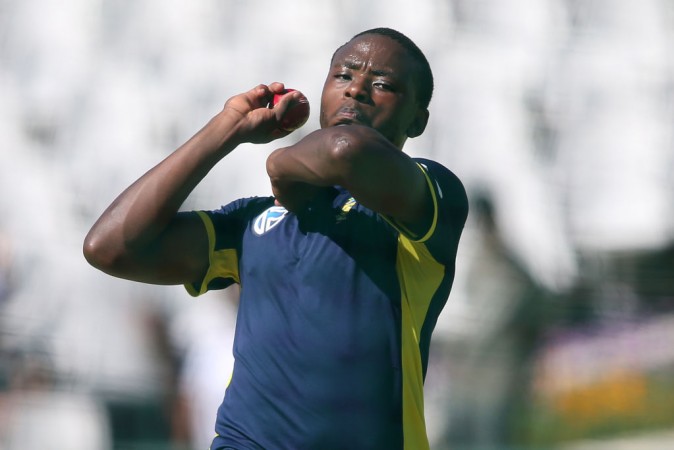 Kagiso Rabada is in danger of missing the rest of South Africa's Test series against Australia after the International Cricket Council (ICC) charged the bowler with a Level 2 offence following an incident with Steve Smith on day one of the second Test in Port Elizabeth.
Rabada, 22, bumped in to Smith's shoulder after dismissing the Australia captain and faces a hearing over the incident, which will be held by match referee Jeff Crowe on March 11.
The pacer, who is currently ranked as the second best Test bowler in the world, already has five demerit points on his disciplinary record and stands to earn three or four more points as a result of his Level 2 offence, which will result in a two-Test ban.
Rabada took five wickets as Australia were bowled out for 243 in the first innings in Port Elizabeth.
AB de Villiers then scored a brilliant 126 off just 146 deliveries to power the home side to 382 all out – a lead of 139 – at lunch on day three.
Rabada's clash with Smith came after an ugly off-field confrontation between David Warner and Quinton de Kock marred the first Test in Durban.
Both players were sanctioned by the International Cricket Council (ICC) after video footage from a stairwell leading into the players' dressing rooms appeared to show Warner being restrained by his teammates during a spat with De Kock.
Warner accepted a Level 2 offence and was fined 75% of his match fee by the ICC over the incident, but avoided a one-Test ban. De Kock contested his charge of a Level 1 offence but was fined 25% of his match fee.
Warner said he had been provoked by a sledge from De Kock about his wife and denied that he had been the instigator of the confrontation between the pair.
"I cop it left, right and centre, especially off the field from spectators and I'm used to that and it doesn't bother me," the Australia opener was quoted as saying by Cricket.com.au.
"But in a proximity of my personal space and from behind me, a comment that was vile and disgusting about my wife, and in general about a lady, was quite poor I felt."
Australia lead the four-match series 1-0 after winning the first Test by 118 runs.