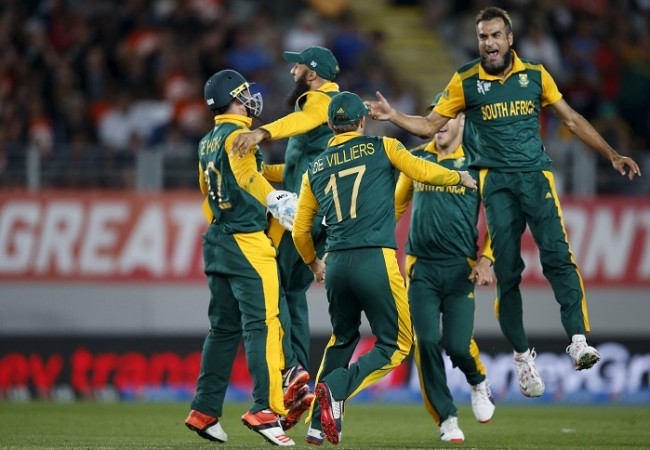 After winning the ODI and T20 series against Zimbabwe, New Zealand have a tough task as they embark on their South Africa tour for two T20 and three ODI matches starting on 14 August at Kingsmead in Durban. With both teams having some big players in their squad, the series is expected to produce some magical moments.
New Zealand, who are a quality side, should provide stiff competition to the home team as South Africa are always a dangerous side at home. The Proteas have announced a strong team with the T2O side is going to be captained by AB de Villiers and Faf du Plessis will lead the ODI team.
Irrespective of who leads the side, the players, including Dale Steyn, Hashim Amla, David Miller, Imran Tahir, have been playing together for some time and hence, know one another's game well.
South Africa lost their last ODI series against Bangladesh after winning the T20 series, but the team are going to be buoyed with the return of de Villiers into the ODI squad as he makes the batting line up stronger. AB De Villiers will be eager to put his best feet forward and help South Africa defeat New Zealand.
Howver, New Zealand are going to miss their two key players -- Ross Taylor and Brendon McCullum -- in the series and are hence, going to depend to a large extent on Kane Williamson and Martin Guptill with the willow.
With pitches in South Africa said to produce great sporting wickets, both the teams have plenty to look forward to during the series. There is something in the pitch for both the bowler as well as the batsman, which makes the contest more intriguing.
"The wickets will be conducive to good cricket, possible not as aggressive as the cricket as we saw in England due to the nature of the surfaces," ESPN Cricinfo quoted New Zealand cocach Mike Hesson as saying.
After having played an aggressive brand of cricket in England and the 2015 World Cup, the Black Caps are expected to play similarly against South Africa as well, which will please cricket fans.
"We've identified the way we want to play our cricket, the way we want to be known and respected by our own fans and we're proud of the way we play the game."
"As a group we've looked at our strengths and weaknesses and tried and work out how you can generate some consistency. It looks great when it works and when it doesn't, occasionally, it doesn't look so good but if you accept that's the way you want to play, you can cope with the outcomes," said Hesson.
Complete Schedule
South Africa vs New Zealand T20 Series
1st T20 at Kingsmead in Durban
Date – 14 August
Time – 6pm local time (9:30 pm IST)
2nd T20 at SuperSport Park in Centurion
Date – 16 August
Time – 2pm local time (5:30 pm IST)
South Africa vs New Zealand ODI Series
1st ODI at SuperSport Park in Centurion
Date – 19 August
Time – 12:30pm local time (4 pm IST)
2nd ODI at Senwes Park in Potchefstroom
Date – 23 August
Time – 10am local time (1:30 pm IST)
3rd ODI at Kingsmead in Durban
Date – 26 August
Time – 12:30pm local time (4 pm IST)