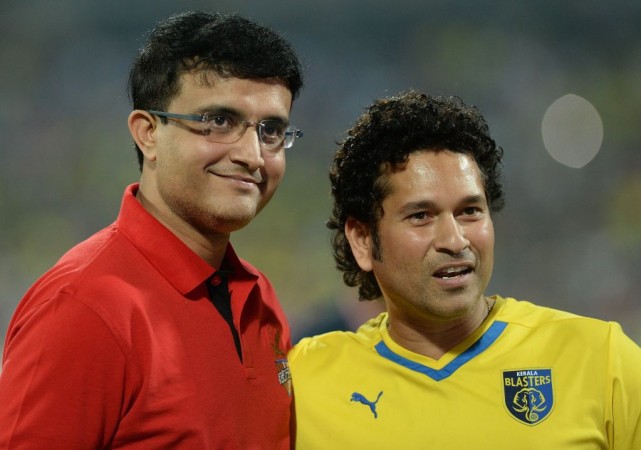 Indian cricket legend and one of the most successful captains in the history of Team India, Sourav Ganguly has revealed his all-time cricket 11 side. Mind you, the line-up doesn't consist of any Pakistani cricketers.
Ganguly, being a southpaw, has gone on to select two lefties as the main marksmen in the batting order. Former Australia hard-hitter Matthew Hayden and English cricketer Alastair Cook fill in the opening batsmen slot.
'Dada' revealed that he would have gone for one of India cricket team's greatest swashbuckling openers ever in Virender Sehwag, but Cook got the nod ahead of 'Viru' for this reason: "I was very tempted with Virender Sehwag, but I think Cook has got a huge volume of runs behind him at a very young age," reasoned Ganguly.
In the middle-order batting lineup, Ganguly named the two Indian batters who have remained an integral part of Indian cricket over the past few decades -- Rahul Dravid and Sachin Tendulkar.
South African all-rounder Jacques Kallis, who has also played for IPL side Kolkata Knight Riders (KKR), makes it to the list, along with Sri Lanka cricket star Kumara Sangakkara, who is the wicket-keeper batsman of the side.
For the captain of the Sourav Ganguly all-time greatest XI, the Indian cricket legend picked another legend in the form of former Australia skipper Ricky Ponting.
"Not necessarily going by batting order, No 7 [in the list] would be Ricky Ponting. He has a terrific record as captain, fits into the side automatically and he possibly remains the best tactical person in the squad," said Ganguly.
The last four slots in the team are filled by fast bowlers Glenn McGrath (Australia), Dale Steyn (South Africa), Shane Warne (Australia) and Muttiah Muralitharan (Sri Lanka).
"McGrath is best in terms of accuracy, in terms of discipline in Test cricket, he runs in all day long and hits the right areas," explained Ganguly. "Steyn makes the team for the quality of his bowling and wicket taking abilities.
"Warne remains the leg-spinner of the side, while Murali is the off-spinner."
Sourav Ganguly all-time XI
1. Matthew Hayden
2. Alastair Cook
3. Dravid
4. Sachin
5. Kallis
6. Sangakkara
8. Glenn McGrath
9. Dale Steyn
10. Shane Warne
11. Muralitharan