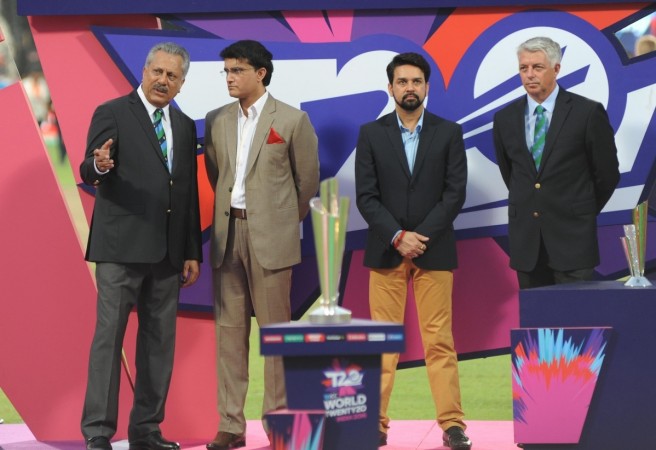 Shashank Manohar, who quit as president of the Board of Control for Cricket in India (BCCI) on Tuesday, has revealed that he was unable to work in the present scenario in the Indian cricket board, adding he was "forced to resign." The announcement has now fuelled rumours that Anurag Thakur, who at present is the BCCI secretary, could be elevated to the position of BCCI president.
If at all Thakur takes over as BCCI president, former India cricket team captain Sourav Ganguly, who is also the president of the Cricket Association of Bengal (CAB), could become BCCI secretary till 2017, reported NDTV.
It all depends now on when Thakur will call the BCCI Working Committee meeting to decide a date for the Special General Meeting (SGM) of the Indian cricket board, where they can announce Manohar's successor.
Meanwhile, Manohar, who returned to the BCCI for a second term as the cricket body's president in October 2015, following the death of Jagmohan Dalmiya, has recorded the shortest-ever tenure of a BCCI president. While many believe his resignation has been fuelled by the Supreme Court's continuous pressure on the cricket body to adhere to the Lodha Committee recommendations, Manohar himself admitted that he did not wish to work under others' influence.
"I could not work in the present scenario. I don't want to name anyone, but can say I have been forced to resign," Manohar said. "I don't want to say anything more except that I wanted to run the organisation (BCCI) on my terms and conditions. I didn't want my image be spoiled. I didn't wish to run the board with others' influence."
Among the several recommendations laid out by the Lodha Committee, one said BCCI officials should compulsorily have an age cap of 70 years. Thakur, who is 41, is seen as the front-runner to succeed Manohar, but he could face competition from IPL Chairman Rajiv Shukla and Maharashtra Cricket Association (MCA) President Ajay Shirke.
On account of an election, a majority of 16 votes is needed in a 30-member house for a candidate to become the next BCCI president.