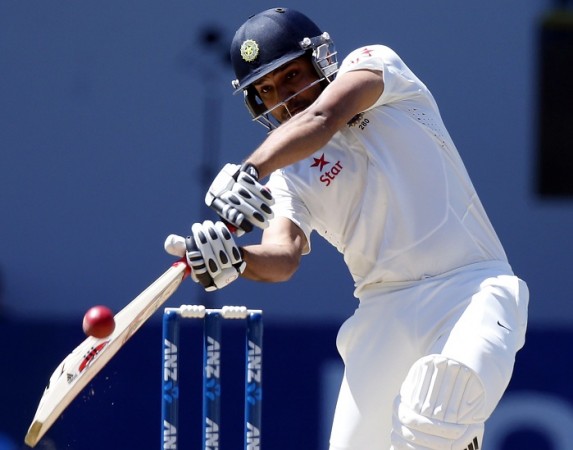 It might have been a tough decision for Virat Kohli to choose Rohit Sharma over Cheteshwar Pujara, who is more of a Test specialist. But, Sourav Ganguly backs Virat Kohli, the Indian Test captain, for picking Rohit Sharma for the one-off Test match against Bangladesh.
India have basically played with four bowlers in all conditions under MS Dhoni, but Virat Kohli, who is known to be aggressive in his approach, took a bold move as he broke the norms and played five bowlers.
When was the last time we saw India play with five full time bowlers? Is Virat Kohli going to take a different approach compared to MS Dhoni?
In sub-continental condition, Kohli went for a trio of fast bowlers, such as Umesh Yadav, Varun Aaron, Ishant Sharma – unheard of in Indian circles. Ravichandran Ashwin and Harbhajan Singh were the spinners in the playing 11.
But it was Kohli's decision to play five bowlers, which sidelined Pujara from the top eleven, else his place in the team was almost guaranteed.
Rohit Sharma looked in excellent form in the World Cup and also during the recently concluded Indian Premier League (IPL) and his selection looked sensible.
Though one might state that playing cricket in coloured clothing and whites may be a different affair, Rohit Sharma has the ability and the technique to conquer Test cricket as well.
Unfortunately, Rohit Sharma did not do justice to his credentials as he only scored six runs coming into bat at number three. It is his inconsistency, which has been a major concern.
"Virat wants to play five bowlers and in that case you have to sacrifice a batsman. Rohit played at number three in the last Test match in Sydney. Going by the form, it is fine," IANS quoted Ganguly as saying.
But all is not lost for Cheteshwar Pujara, who spent some important days with English county side, Yorkshire to hone his batting skills. No doubt, he is a fine batsman. When a chance comes his way, he should grab the opportunity with big hands and score big runs, pose a strong challenge for a slot in the Indian team.
After the team comes back from the Bengladesh tour, the most awaited decision about the selection of India's new coach could be announced. Earlier, there were rumours suggesting Sourav Ganguly as favourite to replace Duncan Flecther, but now Ravi Shastri is said to be in the pole position.
However, Sourav Ganguly said he has no such reports. "I have no such report, when that happens we all will get to know," he said.