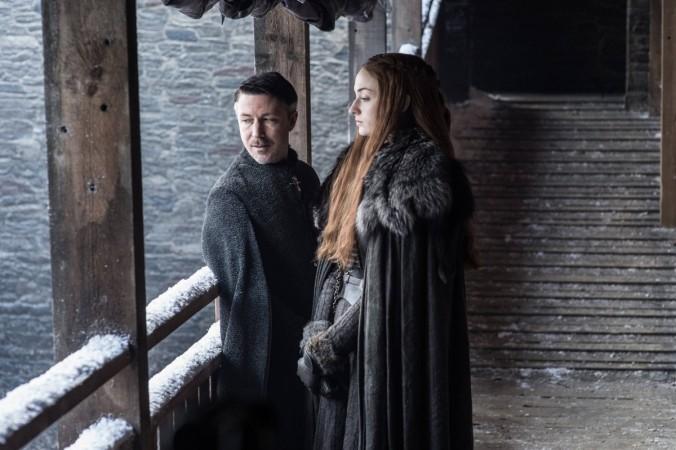 Game of Thrones season 7 is only three weeks away from its much-awaited premiere and die-hard GoT fans are struggling to suppress their curiosity as spoilers have been dribbling everywhere. Amidst all the hustle and bustle, Sophie Turner aka Sansa Stark left some major hints during an interaction with The Daily Express.
Also read: Game of Thrones season 7 deaths: Will Kit Harington's Jon Snow finally die in penultimate season?
The previous season saw the forever timid Sansa Stark taking a bold step when she took revenge on her husband Ramsay Bolton by feeding him to his dogs after they won the Battle of the Bastards with Littlefinger's help. Following that, Jon Snow (Kit Harington) was declared the King in the North, thanks to a rally led by Lady Lyanna Mormont.
But was Sansa happy about the decision? Did she feel left out? Well, yes. "She definitely feels left out," Sophie Turner told Express. "There's a little bit of jealousy there. She feels like she deserves the title of Queen in the North...
"All she wants is the respect of her brother, and she feels like she's not getting that. Fair enough!"
Watch the trailer for Game of Thrones season 7 here.
Turner also teased that her docile character could turn into someone completely different by the end of Season 7.
"She's very strong and steely this season. She's in it for herself. Whether that means going a bit dark... you'll have to see," she said, adding that "anything can happen."
She also touched upon Hodor's possible return, saying: "I'd love to have [actor] Kristian [Nairn] back, but Hodor as a white Walker might be slightly terrifying."
Game of Thrones season 7 will return to HBO on July 16 at 9 pm ET. It will premiere in India on Star World and Star World HD on July 18 at 10 pm.