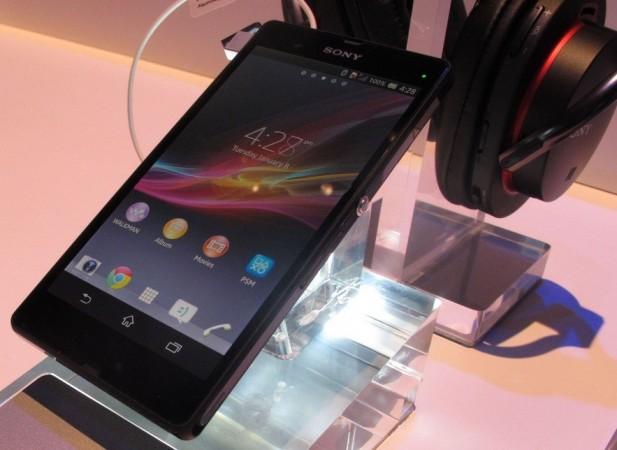 Sony Corp's high-end Xperia Z smartphone, which was recently unveiled at the Consumer Electronics Show, is reportedly facing problems of phone dying mysteriously with no identified reason.
XperiaBlog took a note of the complaints posted by the users of the Sony's priced phone ,cited that the users have complained about the phone crashing randomly of its own without any reasons and they found it difficult to refurbish it even when the phone is fully charged. Some users stated that they were able to revive the phone by pressing the volume up and power buttons simultaneously.
The peeved users attribute the problem to the handset running low on juice, while others maintained that phone becoming bricked for no reasons. Many tech-forums like AV Forums, Sony Mobile Talk and XDA Developers have been flooded with the users' grievances. A member of Sony Mobile Talk Forum posted: "I've nnly had my Xperia Z a day and it's totally dead. I had a full charge last time I looked and was using it about 5 minutes ago. No reaction trying to turn it back on (holding the power button for 10 seconds etc). I don't have a memory card in - just the micro-sim."
Another user of the phone had this to say "One moment, the smartphone is working fine and it is suddenly dead." A support staff from Sony has reportedly responded to the problem and promised that a "fix for this will be implemented in next software update". But it is not sure when the company will start rolling out the update.
Sony Xperia Z 5-inch smartphone made its global debut at the Consumer Electronics Show 2013. It comes with full HD capacitive touchscreen display with a resolution of 1920x1080 pixels and is powered by a quad core 1.5GHz Snapdragon S4 processor. It runs on Android 4.1 Jelly Bean operating system and features a 13-megapixel rear camera along with a 2.2-megapixel camera on the front.
The smartphone supports WIFI, Bluetooth, NFC and 4G LTE. In terms of memory, it comes with 2GB RAM and internal storage of 16GB which is expandable up to 32GB through a microSD card. It also comes with IP57 certification for dust and water resistance.