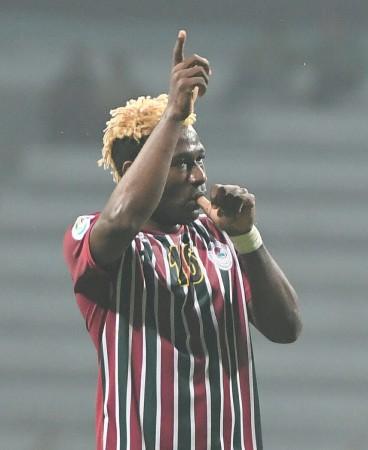 Haitian hotshot footballer Sony Norde is leaving Mohun Bagan and the felicitation ceremony organised by the I-League club on Monday January 22 at the Kolkata Maidan was nothing but absolutely emotional for everyone present.
The 28-year-old forward, who joined the Indian football club in 2014, shed a plethora of tears, as did the fans as the club bigwigs handed him special cakes while fans gave him plenty of flowers and mementos.
It was very difficult for Sony to even speak at the event as tears got the better of him. Nevertheless, he paid the greatest of tribute to the Mohun Bagan fans and also made sure to utter the words, made famous by Arnold Schwarzenegger, on screen: "I'll be back!"
What a thrill it was...
Thank you very much. What a thrill it was. This club gave me everything... [gets emotional cries] but I have to leave for my career, future, family. I need to be at my best level. If I continue playing despite the injury, it is not good for me.
I'll be back...
I will come back to Mohun Bagan. Want to thank the officials who treated me like I was always at home. I never missed my family when I was here.
Hard to see Mohun Bagan fans cry...
It's very hard for me seeing the supporters cry. When I was coming for the event this morning, they were crying. I promise you guys that I will come back after recovery from the injury. This is the only way I can give you all the love back.
Today it's not about me, it's about Mohun Bagan. They are becoming bigger day by day. We could have scored 6-7 goals yesterday [in the Kolkata derby].
You can compare the club with every team in the world but you cannot compare the supporters.
It was hard for me to take the decision. I couldn't sleep that night I took the decision because it was very hard for me.
Mohun Bagan lives forever...
I hope you guys try and keep winning. I will pray for Mohun Bagan to win every match. Thank you very much and I will see you very soon.
Keep fighting, team. Give your 100% in the pitch and win every game. Mohun bagan will stay, I have to go. Mohun Bagan lives forever.
The Haitian will be leaving for Argentina to undergo a knee surgery. The recovery period will be approx. 6-7 weeks. Following the rehabilitation, he wants to live up to the promise of returning to Mohun Bagan next season.