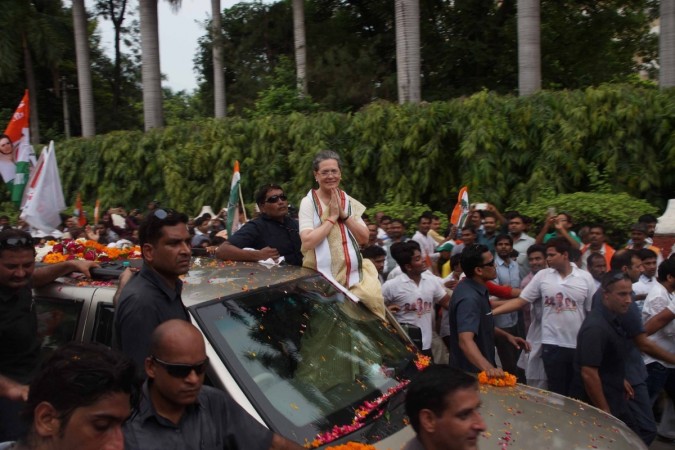 In what could be called as a kickstarter to the Congress' campaign in Uttar Pradesh where assembly elections are scheduled to be held in 2017, Sonia Gandhi on Tuesday held a road show in Varanasi, which is Prime Minister Narendra Modi's Lok Sabha constituency.
Gandhi was welcomed by thousands of Congress supporters who thronged the route she travelled through right from the airport to the Circuit House, where the road show began, to Chowka Ghat to her last stop at Kamalapati Tripathi Smarak, a statue of a former Uttar Pradesh chief minister.
"The people of UP have always shown miracles. In 2004 they gave us many MPs, in 2007 they gave a mandate to the BSP, in 2012 to the SP and in 2014 to Prime Minister Modi. I am sure that in 2017, the miracle is going to be in our favour," said newly appointed UP Congress chief Raj Babbar. He also added that Sonia Gandhi had come to Varanasi, the Lok Sabha seat of Modi, to seek the blessings of Baba Vishwanath of Kashi.
However, given the party's prospects in the state, the Congress would really need a miracle if it were to win the next year's UP assembly elections. The grand old party of India has roped in political strategist Prashant Kishor to chart out its poll strategy in the state and is looking forward for a change in its fortune in India's largest state.
Kishor had reportedly said that the Congress' previous strategy of choosing a chief minister after the elections will not be enough, and he needs a strong leader to project as the image of the party. Dickshit is a hardened politician who served as Delhi chief minister for three terms.
The Congress president, however, was not accompanied by her son Rahul Gandhi and daughter Priyanka Gandhi Vadra, who were expected to campaign for the UP elections. Accompanying Sonia Gandhi was Raj Babbar and Sheila Dickshit, the party's chief ministerial candidate for UP.
Images from the road show poured in on Twitter on Tuesday.
Sonia Gandhi leads Congress roadshow in Varanasi (UP) pic.twitter.com/AZxFf8slqS

— ANI UP (@ANINewsUP) August 2, 2016
Sonia Gandhi led Congress roadshow begins in Varanasi (UP) pic.twitter.com/5q9dmJimpL — ANI UP (@ANINewsUP) August 2, 2016
Congress president Sonia Gandhi pays tribute to Dr. BR Ambedkar in Varanasi (UP) pic.twitter.com/aVdLi5tSnJ

— ANI UP (@ANINewsUP) August 2, 2016
Varanasi greets Smt Sonia Gandhi in large number in the road show #SoniaInKashi pic.twitter.com/jDtOmJXjGg — Youth Congress (@IYC) August 2, 2016
Congress President Smt Sonia Gandhi leads a huge road show in Varanasi #SoniaInKashi pic.twitter.com/Bjr2oJgLFB

— Youth Congress (@IYC) August 2, 2016
And the momentous #SoniaGandhi road show begins at Varanasi. A watershed 5Km as CP takes to the road. #SoniaInKashi pic.twitter.com/Xjub5duXa3 — Maharashtra Congress (@mahcongress) August 2, 2016
Congress chief Sonia Gandhi launches poll campaign in Varanasi with road show on Tuesday. 0208/2016 pic.twitter.com/Nv82Q8iO4k

— Tajdar Zaidi (@ZaidiTajdar) August 2, 2016