Sonam Kapoor, who is all geared up for his first release of this year – PadMan, also starring Akshay Kumar and Radhika Apte — has talked about her role and personal life with Mid-Day.
Raising the issue of menstrual hygiene, Sonam told Mid-Day: "When was the last time you heard a man talk about menstrual hygiene? I have always wondered why the subject is taboo in India. Sanitary napkins are packed like bombs; they are wrapped inside newspapers in black packets.
"Mothers don't broach the subject, schools don't instruct their girls about it. Grandmothers have forbidden us from entering temples on certain days of the month. A film like this, headlined by a superstar, will make people watch it."

Talking about her character in the film, Sonam told the daily: "She is an independent woman — a feminist and a big believer in transformation."
And we all know Sonam is opinionated and doesn't hold back when it comes to putting forward a point. She said: "I'm blunt and straightforward, so much so that my team wants me to run my tweets by them, but I flatly refuse. They often ask me to delete some posts and I tell them no. I look at it as a responsibility [as an actor]."
Coming to the strong rumours and speculations that she will be tying the knot with Anand Ahuja soon, she told Mid-Day: "Why are actresses asked more about their personal lives? Is anyone asking Ranbir Kapoor or Ranveer Singh when they are getting married? There has to be sanctity to some parts of my life. Nobody has the right to access my personal life. This one part has to be in my control. I am ready to talk about me, but there is another person involved here and I need to respect him."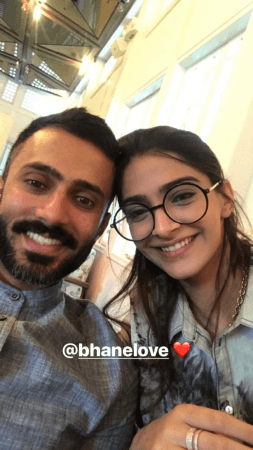 sonam Kapoor's second movie, the Rhea Kapoor production - Veere Di Wedding was supposed to hit the screens on May 18. But the recent news is that Veere Di Wedding has been postponed to June 1.
Producer Ekta Kapoor took to her Twitter handle to announce the changed release date. She tweeted: "1 June is one big day!!!! Veere di wedding arrives on my lakkshya 's bday!!!! Ab shaadi aur bday pe aap sab ko nimantran hai."
PTI reported, "Recently I was offered a project, which I was excited for, but the money being paid was s***. I made a call and said, this is very disrespectful. There was shock on the other side. I told them, you put me in a position after being ten years in the industry, after giving the most profitable film 'Neerja' a year ago, so please tell me why is it that this is what you decided to give me."
"They were like 'Our last film with so and so star didn't do well so we don't have that much money.' I was like, because of this xyz star whose film didn't do well, the one person whose film actually did very well you want to underpay me to pay this 'star' more? I told them to move on and get someone else as frankly it was very disheartening," Sonam Kapoor said in an interaction with media.