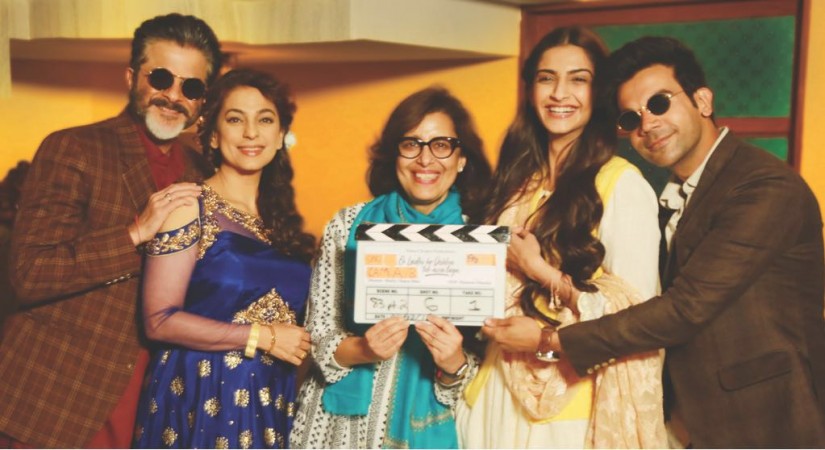 Vidhu Vinod Chopra's upcoming film features Anil Kapoor and Sonam Kapoor and the title is after Anil Kapoor's iconic song "Ek Ladki Ko Dekha Toh Aisa Laga". The first picture of the movie's star cast has been released and it looks amazing.
The Shelly Chopra Dhar directorial went on floors last month when Anil Kapoor and Madhu Malti started shooting in Patiala. Sonam Kapoor, Rajkummar Rao, and Juhi Chawla joined them on the sets later.
Rajkummar shared the first picture on Twitter and wrote: "Friends turned family Here's a moment from the sets of #ShellyChopraDhar's directorial - #EkLadkiKoDekhaTohAisaLaga! with @iam_juhi, @sonamakapoor & @AnilKapoor. #VidhuVinodChopra #RajKumarHiraniFilms @foxstarhindi"
While the title makes you hum Anil Kapoor's song, the makers have decided to recreate the track in this film as well.
Ek Ladki Ko Dekha Toh Aisa Laga from 1942- A Love Story stays one of the most-loved romantic tracks till date. Anil Kapoor, who starred in the original song, will be seen in the film which recreates the iconic track.
Confirming this, director Shelly Chopra Dhar said: "Yes, we are recreating the original and we want to replicate its iconic status. It's hard to beat the original so I will be happy if we are at par with it. However, we'll have to wait and see who sings the new version and for whom in the film."
The film Ek Ladki Ko Dekha Toh Aisa Laga will mark the directorial debut of Shelly Chopra Dhar, sister of filmmaker Vidhu Vinod Chopra who had made 1942- A Love Story.
The new film is slated to release on October 12.
The movie has a great star cast and their coming together in one frame is winning hearts. Here are five things that this picture tells us about the film and what you can expect from it:
Father-daughter
Real life father-daughter Anil Kapoor and Sonam Kapoor will be seen sharing screen space for the first time in a film. Whether they'll play the same role on the silver screen is not clear yet. But the duo is known to be a fun father-daughter pair.
While sharing the same pic, Sonam wrote: "Even work feels like home with Dad & this amazing team! Here's a glimpse from the sets of #ShellyChopraDhar's directorial debut - #EkLadkiKoDekhaTohAisaLaga! @AnilKapoor @iam_juhi @RajkummarRao #VidhuVinodChopra #RajKumarHiraniFilms @foxstarhindi"
Comeback pair
Rajkummar Rao will be seen as Sonam Kapoor's love interest. Many of you will assume that they are working together for the first time. But the truth is they romanced each other earlier in the 2015 release Dolly Ki Doli.

Iconic pair
Anil Kapoor and Juhi Chawla are reuniting on the silver screen after 11 long years. Salaam-e-Ishq, which released in 2007, was the last movie when we saw them together on screen. The photo is proof of how good they look as a pair.
Rajkummar-Anil goggles
If you have looked at the picture closely, you must have noticed that Anil and Rajkummar are wearing similar goggles. Is this an indication that the movie is going to have some great comedy masala?
Outfits
Given the outfits in the photo, especially that of Juhi, it seems the cast has begun the shooting and it might be a song. Actually, Anil and Juhi look like they are shooting either for a party scene or a wedding sequence or a song.