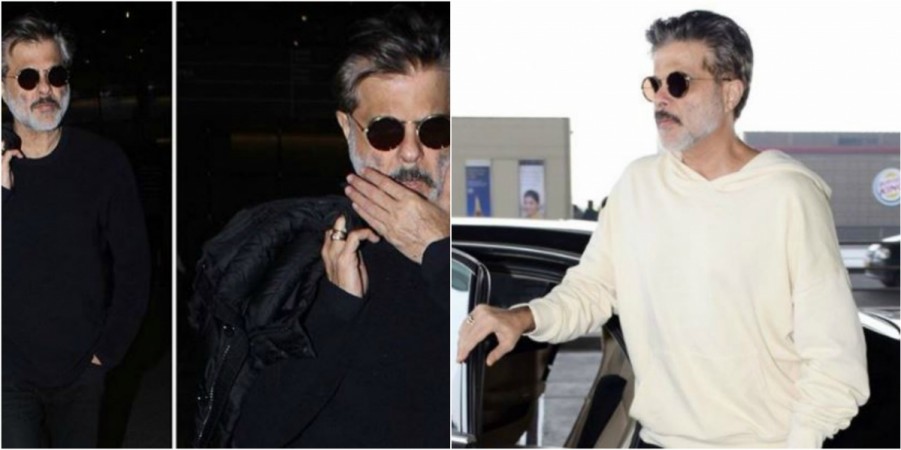 Oh my god! Our jaws dropped at this recent picture of Anil Kapoor at the airport.
This salt-and-pepper look at the age of 61 definitely makes Anil Kapoor the most stylish grandfather in Bollywood.
Have a look at these pictures:
The man needs no inspiration. He sets the style for everyone. But this look was definitely a surprise and the actor totally justifies his age here. (And we are not complaining!)
Talking about his variety of looks, Anil told a leading tabloid: "Throughout my career, I have done roles that suit my personality and I feel that is the reason for the longevity of my career. I always look at the script and my character. The character can be that of a father, grandfather, son or even an uncle — it doesn't matter to me. It is only in India that these things are given importance. In the West, no one questions an actor playing an older role."
In an interview for NDTV with Aneesa Baig, Anil Kapoor shared that he hails from a typical foodie Punjabi family. Maa ke haath ka khaana has always been Anil's favourite.
It is Anil's wife Suneeta Kapoor who makes sure everyone is eating healthy and remains fit, and she is quite a hard taskmaster.
Anil follows a disciplined diet. An NDTV report suggested that the actor avoids sugar and junk food, and eats a lot of dairy products. The actor believes sugar is the main villain of most health issues, and the less you eat the better it is for your health.
Anil also believes that he is genetically blessed, and is free of any age-related diseases that are common for people his age. His eats five-six small meals a day. Vegetables, daal, oats, fish,broccoli, celery, chicken and protein shakes are a common part of his diet.
His breakfast usually consists of eggs and toast with a glass of fresh juice or black coffee. He keeps himself hydrated with water, juices and shakes.
Anil Kapoor will next be seen in Fanney Khan starring Aishwarya Rai.