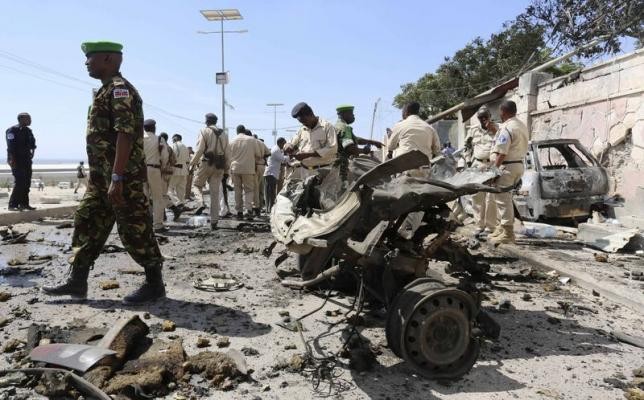 After taking over a military base of the African Union (AU) peacekeeping force early on Friday, Al Shabaab reportedly put up corpses of dozens of soldiers on display.
The attack began at dawn after Al Shabaab rammed an explosive-laden car into the base located south of Mogadishu. The local Leego residents, who had assembled for the early morning prayers at the mosque for Ramadan, claimed to have heard heavy explosion followed by gunfire.
The fighting reportedly went on for over three hours, and there is still no exact figure on the number of casualities. The peacekeeping force, known as African Union Mission In Somalia (Amisom), is made up of army units from Kenya, Uganda and Burundi.
"A car bomb rammed into the AU base in Leego and this was followed by heavy exchange of gunfire," Major Nur Olow, a military officer, told Reuters. "First, AU forces opened fire at the speeding car bomb. The car forced its way in."
Sheikh Abdiasis Abu Musab, a spokesman for the al Qaeda-aligned group, claimed that they have killed 35 soldiers.
Somali journalist Mohammed Abdi, citing local residents, said on Twitter that the bodies of dozens of peacekeeping soldiers were put on display, after Al Shabaab militants hoisted its flag at the Amisom base.
Security forces in Somalia have already been on a high alert, especially as the militant group often steps up its attacks during Ramadan.
On 24 June, Al Shabaab had attempted a suicide attack targeting the UAE ambassador to Somalia. Though the diplomat survived the attack, at least 11 soldiers and civilians were killed.
On 21 June, an Al Shabaab suicide bomber had rammed an explosive-laden car into the Somali intelligence office building, while armed attackers exchanged heavy gunfire with security personnel in a failed attempt to enter the high security zone.
BREAKING:Ku Dhawaad 50 Askari Oo Ciidamada Amisom Looga Dilay Dagaalka Leego Ee Gobalka Sh/hoose.#AlShabaab #somalia pic.twitter.com/H1zHjZ6lV0

— Calamada (@Calamada2) June 26, 2015