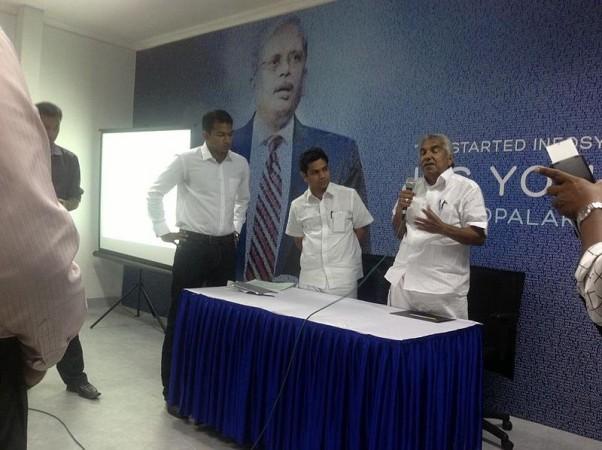 Update: 3:09 pm IST: The FIR ordered against Kerala Chief Minister Oommen Chandy by a Vigilance Court in relation with the solar scam was stayed by the Kerala High Court on Friday after Chandy filed a petition.
Original Story, published on Thursday, 28 January: A court in Thrissur, Kerala, on Thursday ordered an FIR to be registered against the state's Chief Minister Oommen Chandy and Power Minister Aryadan Mohammed over allegations regarding the solar scam case.
The Enquiry Commission & Special Judge Vigilance Court was hearing a public interest petition filed by an activist after Saritha S Nair, one of the main accused in the solar scam case, told the judicial commission on Wednesday that she paid Rs 1.90 crore to Chandy and Rs 40 lakh to Mohammed as bribe.
Chandy refuted the allegations, saying it was a "political conspiracy" against him.
"The new allegations are part of a political conspiracy hatched in connivance with the liquor lobby. The government had taken a bold decision to close down several liquor bars. Because they (bar owners) lost their battle in various courts — high court and Supreme Court, they have come with new allegations to hit out at the government", The Indian Express quoted him as saying.
During the deposition, Nair said that she paid bribes to get government subsidy and other benefits for her solar energy venture, Team Solar Renewable Energy Solutions Private Limited, which she floated with her live-in partner Biju Radhakrishnan.
"What is strange is that till last week she was seen describing me as a father figure and suddenly she makes this new allegation. There is not an iota of truth in her allegations and this is nothing but a conspiracy hatched by vested interests," Chandy told the Times of India.
The allegations against the two ministers bring fresh trouble for the Congress party in Kerala. Earlier, Cabinet minister K Babu had resigned when the Vigilance Court had asked the Vigilance and Anti-Corruption Bureau (VACB) to file an FIR against him in the bar bribery case.
Protests were staged by the Democratic Youth Federation of India, the Communist Party of India (Marxist)'s youth wing, in front of the State Secretariat, which led to tear gas shelling and lathi charge by the police.
The CPI (M) on Thursday said that it will increase agitation seeking the chief minister's resignation.
BJP minister Nirmala Sitharaman told ANI, "We demand resignation of Kerala Chief Minister and Power Minister."
Fielding the bribery charges against the chief minister, State Information Minister KC Joseph claimed that in 2014 Nair had said in an interview to a vernacular magazine that the CPM had offered her Rs 10 crore as bribe to include Chandy in the solar scam accused list, according to TOI.
Nair and Radhakrishnan had started the firm in 2011 and were arrested in 2013 for their fraudulent practices, leaving investors in a lurch.