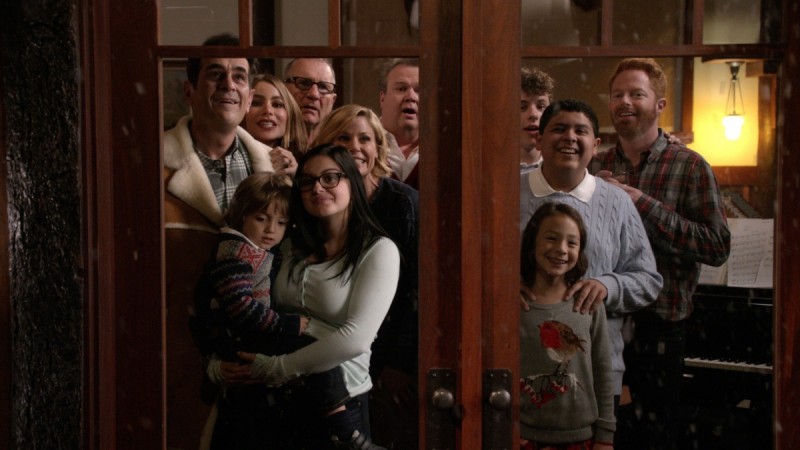 And that's a wrap up for the eighth season of ABC's flagship comedy series, Modern Family. The cast and crew shot the last episode of season eight of Modern Family on March 3.
Also Read: Here is why Modern Family star Sofia Vergara calls husband Joe Manganiello 'Hindu Monk'
To record the last day of the shoot, Sofia Vergara, who plays Gloria Delgado-Pritchett, captured a few moments on her camera and shared it on social media. In a series of Instagram posts, Vergara shared some cute behind-the-scenes moments of the cast on set.
"Last day of the 8th season #modernfamily," Vergara captioned the video that features her and co-star Jesse Tyler Ferguson. "Miss u guys alreadyyyyy!! #modernfamily season8 #lastshot," she captioned a photo.
She also posted a photo of the Julie Bowen and Ty Burrell, who play the role of Claire Dunphy and Phil Dunphy, making faces. Vergara captioned the image "sexy people." In one of the photos, she is seen posing with her on-screen son Joe Pritchett, played by Jeremy Maguire.
The five-time winner of the Best Comedy Series Emmy, which debuted in 2009 and remained ABC's highest-rated comedy series, is bracing for contract negotiations for the ninth season. ABC and producing studio 20th Century Fox TV are yet to reach an agreement for a new licence fee deal for the next season.
However, the cast and crew are under the assumption that they will come back with the ninth season of the comedy series. According to Deadline, the production team has not shot an alternate ending for the season 8.
While we wait for an official announcement regarding Modern Family season 9, take a look at the photos of the last day of the shoot of season 8, shared by Sofia Vergara.